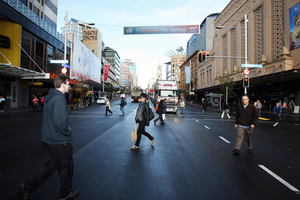 Cameron Brewer, chairman of the Auckland Council's business advisory panel, is dismayed at the proliferation of "little shoeboxes selling absolute rubbish" on Queen St. "Whatever happened to the Golden Mile?" he asked last week.
Aucklanders have to be getting on in years to recall when Queen St was called the golden mile. Suburban sprawl and shopping malls sent the street into decline more than four decades ago. But the trend that Mr Brewer notes is much more recent. Tiny shops stocked with cheap goods have replaced much of the stylish retailing that survived until recently.
He suspects this is not simply the market at work; immigration policy might be contributing. They may be an investment made to meet the requirements of a visa rather than a sustainable business, he said. He wants the council to intervene in the name of urban design, possibly imposing a minimum size for shops, as it did for residential apartments about 10 years ago.
It is always dangerous to judge the value of other people's investments. These "shoebox shops" are in many cases owned by Asians, leased to Asians and probably selling to Asians. Owners can get weekly rent of around $1000/sq m for a small shop, compared with $200/sq m for a larger store.
Asian retailers may be accustomed to paying $4000 a week for prime sites in cities where a million people pass their door every day. Queen St is not exactly packed most days of the week but these days a high proportion of the passing foot traffic is Asian and young, mainly students. The shops probably know their market.
Mr Brewer is not alone in wishing for a higher standard of retailing on Queen St, particularly now that the public areas have had a $50 million upgrade with widened footpaths, crossings and more plants.
On the lower east side of the street, the public investment has been matched by new buildings leased to luxury goods retailers with top shelf brands. But in the blocks where former cinemas still await a new purpose, new developments are reducing the scale and quality of shops.
Mr Brewer asks how these measure up to "the Mayor's vision of a world-class city". As a council member, he wonders at the logic of its plans to outlay $500 million on the central business district and the waterfront over the next 10 years when at the same time the council is signing off "these tacky little retail spaces".
The council's design expert, Ludo Campbell-Reid, argues that small is not necessarily bad. Small shops make it easier for newcomers to enter the market, he says, and "can create a sense of vibrancy and uniqueness". Queen St, though, is neither vibrant nor unique in its present state. It has become an avenue of indifferent shopping, lacking either the flair of High St and Newmarket or the funk of K Rd.
But there is a limit to the ability of a council to influence the quality of shops. A regulated minimum size such as Mr Brewer suggests would run the risk of leaving much more space standing empty. It is better to leave the shops to find their own scale and character. The high rents being charged are a good sign. It seems unlikely immigrants are paying those rates just to prove they are setting up a business here. They could easily find cheaper leases for that purpose.
More likely, Mr Brewer is witnessing a development long common in "world-class city centres". New arrivals colonise central areas that have lost commerce and population to suburban centres. The inner city becomes a new place of language schools, apartments, ethnic restaurants and grocery stores, nightlife and entertainment.
Queen St reflects the times. It always did, always will and still it holds a central place in Auckland's identity.