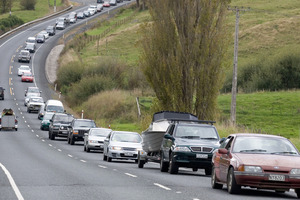 A fatality-free Easter on the roads looks set to smash previous records, but police are warning drivers not to be complacent as they face delays on the drive home.
Five people were killed on the roads last Easter but there have been no fatalities so far this year.
The lack of deaths has put this year's holiday road toll on track to beat the previous record of three fatalities, which was recorded in 1998, 2002 and 2003.
Acting national road policing manager Rob Morgan tonight urged caution in the remaining hours of the road toll period, which wraps up at 6am tomorrow.
"We're still not counting our chickens though - we've still got a way to go.''
Police said there was heavy traffic tonight on the main routes into Auckland and Wellington, with more delays expected tomorrow morning.
But traffic was mostly running smoothly, with continuing good weather and the school holidays prompting some to extend their holidays beyond the Easter break.
Aucklanders returning home faced late afternoon bottlenecks on State Highway 1 travelling south into Puhoi and travelling north from the intersection with SH2 from Coromandel.
Traffic was tonight backed up between Maramarua and Mangatawhiri on SH2 but there were no major incidents.
The delays were not unexpected and police were properly resourced for the increased traffic flows, a northern police spokesman said.
"It's not a grinding halt, it's steady - it's kind of self-regulating.''
Wellingtonians were being held up by gridlock on SH1 at Otaki, but that was typical for a weekend and the traffic was otherwise flowing well, a central police spokesman said.
In the South Island, traffic on SH1 was backed up both north and south of Christchurch, but had eased by this evening.
Mr Morgan said police had reported most motorists were driving well.
"They're getting the normal things out there - they're catching the odd person for speeding and seeing the odd bit of bad driving, but on the whole the traffic is pretty well behaved.''
He urged motorists to remain vigilant in the last hours of the Easter break.
"Our message would be for people to be patient, to be expecting delays and not to take risks.''
Mr Morgan said it would be remarkable to have the lowest Easter road toll on record, after huge tolls in recent years.
"When we were back in the early '90s and '80s, we were killing 15, 19, 16 - those sort of things. Even in 2010, we had a really high road toll - we had 12 killed in 2010.''
This year's tragedy-free Easter comes after the lowest annual road toll since 1952 last year.
"But it also comes on top of a really high and tragic Christmas holiday break, where 18 people died. So it's very hard to look at these things in isolation and say what we're doing is working.
"We have to look at a trend over a long period of time, and that's encouraging because we are seeing a definite downward trend and have been for some time.''
By 1pm today, police had attended 455 crashes since the Easter road toll period began at 4pm on Thursday, compared with 517 by the same time last year.
Police communications centres tonight said there had been a number of incidents but most were relatively minor.
A ute that rolled at a major Lower Hutt intersection today did not cause too much disruption to Easter holiday traffic.
Three people suffered minor injuries when the ute rolled at about 2.45pm at the intersection of Haywards Hill and Western Hutt Road, the main highway through the Hutt Valley.
They were treated at the scene.
Inspector Ken Climo of police central communications said traffic had slowed while a blocked lane was cleared.
But it did not cause too much disruption because SH1 was the main arterial route into Wellington for holiday traffic.
Earlier, a person was seriously injured in a two car crash in the central North Island.
Emergency services were called to the crash on SH49 between Waiouru and Ohakune at about 11.15am, ambulance central communications shift manager Chris Matthews said.
One person was taken by rescue helicopter to Wanganui Hospital in a serious condition, while another six people were assessed by ambulance officers at the scene.
They did not need any further treatment and were speaking with police.

- APNZ