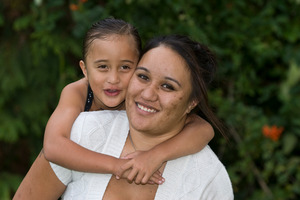 Police shot and killed Hemo Cook's father.
Now the 5-year-old daughter of courier driver Halatau Naitoko becomes upset whenever her mother leaves her sight, fearing police might shoot her, too.
That may sound irrational, but try as she might, Hemo's mother Stefanie Cook can't reassure her.
Naitoko was 17 when he was killed in January 2009 on Auckland's Northwestern Motorway. The fatal bullet was fired by a member of the armed offenders squad trying to stop gunman Stephen McDonald. McDonald was in a drug-fuelled craze; Naitoko was in the wrong place at the wrong time.
Last week, after a report by the Independent Police Complaints Authority, assistant commissioner Allan Boreham said police "deeply regretted" Naitoko's death.
The authority highlighted several areas of concern, particularly related to communication, and changes have been made as a result. But that changes nothing for Hemo.
Cook, who now also has a 6-month-old son called Lucas to another man, learned of the report through watching TV news and from Naitoko's mother Ivoni Fuimaono - with whom she keeps in touch.
The 19-year-old stay-at-home mum said she still missed Naitoko and had tried to keep his memory alive for Hemo's sake by showing their daughter photos and telling stories about him.
But explaining how he'd died was much tougher. "She's very aware. I think she might be a little bit too aware. She's scared of police." She'd often say: "I don't want mum to go out because if the police see her they might shoot her like they did my dad."
Cook said she'd like to see the officer who fired the fatal shot brought to justice. "I think it's unfair. If you shoot somebody when you're hunting, you're charged. It's very unfair."
In the weeks before he died, Naitoko had asked Cook's parents' permission to marry her. He had wanted Hemo to have his name, she said.
Cook said she drank too much after the death, but was now looking forward again. Baby Lucas had helped get her back on track, and she was waiting to see how things worked out with his father.