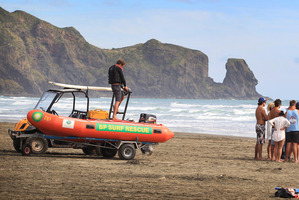 A freak sea accident left Brent Thawley well aware of the work surf lifesavers do. Now back at work after an injury left him nearly paralysed, Thawley is one of hundreds of people who have life guards to thank this summer.
Volunteers put in nearly 200,000 hours, and rescued hundreds of people across New Zealand. The season officially ends tomorrow.
"I always thought surf lifesaver guys were for other people, not for me," said the Taranaki man. In January, a pleasant day out swimming with friends at Taranaki's East End Beach took a sudden turn.
"The last thing I remember saying was 'man, I've never felt so alive'. The next minute I'm flat on my arse on the beach and possibly not being able to walk again. The guy in front of me was picked up by a wave and dropped on my head. Basically, I got knocked out but came to underneath the water. I stood up and was wondering what the hell went on."
Thawley had searing neck pain and couldn't feel his left arm. He collapsed again.
His friend helped keep him afloat while calling out to lifeguards. The guards rushed out, helped Thawley back to the beach, immobilised him and prevented further injury.
While Thawley was dazed and wondering what damage he'd sustained, East End lifesavers used their skills to keep him safe before an ambulance arrived.
An MRI scan revealed two ruptured discs at the base of his neck. Five weeks of rehabilitation followed before Thawley could return to work. He is now healthy, happy and grateful.
"You can imagine if we weren't in the patrolled area, how much more serious it could've been."
Lifeguard Richard Kannemeyer said people like Thawley made life easier for everyone at New Zealand's beaches. "People are becoming more aware of dangers at the beach. People are listening to what life guards have to tell them."
Kannemeyer, club captain at Mangawhai Heads, said sensible swimmers and dismal weather combined to halve the number of rescues his club performed this season. But they have still rescued 20 people - kayakers, swimmers and surfers - since late October.
Many Kiwi life savers are volunteers like Kannemeyer. He spent every weekend driving to the beach from Auckland - a round trip of nearly three hours.