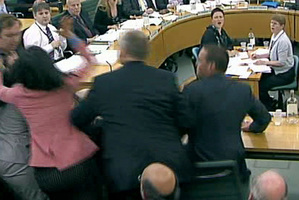 Just how much equality has feminism really gained for women? Not a lot, judging by recent news. A survey tells us an alarmingly high number of women don't leave violent relationships because their partners will kill their pets. One (male) commentator rubbished this, saying women who stayed deserved to be beaten, but I can understand their attitude, having grown up with violence. Today I'd step between anyone who threatened to torture my cats or puppy, but fortunately I'm not in that position.
Thousands of women aren't so privileged. In 2010 and last year, nearly 25,000 women and children used Women's Refuge and more than 60,000 were supported by the crisis line. Police attend around 86,000 family violence incidences a year, but they are just reported incidents, estimated at only 18 per centof the total.
Why? Because women - and men - are still so ashamed to admit that a "wonderful, loving" partner is actually a manipulative, deceiving, bullying, violent bastard.
This week, Diwesh Sharma was sentenced for the "cruellest murder". He couldn't allow his wife, Ranjeeta, to leave him for another man so, in front of their 4-year-old son, he poured petrol over her and burned her to death. That's the extreme example of men treating women as possessions.
Was equal rights for women supposed to mean young women dropping out of school to go on the DPB, having numerous children to different itinerant men drifting in and out of their lives? Does being dependent on the state amount to, "I am woman hear me roar"?
Or did the women who chanted Helen Reddy's anthem turn out to be those bully women I gaze at in awe, who trample their way through meetings and everyone else's lives, with scarcely a backward glance at the casualties in their wake? Born to wear a corsage, it's their way or the highway, and people like Nick Smith are left to patch holes in their torsos left by the heels of sensible shoe-wearers carrying ample bodies to their next target.
And when we do get a woman leader like Bishop Victoria Matthews making a courageous, considered, sensible announcement - ChristChurch Cathedral will cost too much to repair and must come down - she's belittled and brutalised.
Who owns the cathedral? The Anglican Diocese. How many of those who want to save it, actually go to church? That I'd love to know, but the Wizard, a heathen, is leading the charge against the Bishop.
At a time when Christchurch people desperately need money, whether it costs $100 million or $20 million to repair the cathedral, buildings are lovely, but humans matter more.
Maybe we should expect sexism against female church leaders, but I still despair at stereotyping in the media. When Te Kauwhata's Trevor won Lotto's $26 million he was suddenly New Zealand's "most eligible bachelor". Does that make every single woman (or man if Trevor's gay) a predatory gold-digger?
Lawyers, too, can be chauvinist, as shown by personal and anonymous attacks on a legal blogsite this week responding to my discussion on the Lombard case: "The Crown Prosecutor's wife comes out swinging on her husband's behalf". So sexist, as if I can't think for myself.
And where's the crime in defending one's husband? I'll proudly come out swinging for him when challenged.
Who didn't admire Wendy Deng when she slapped down the pie-throwing protester in the British Parliament, protecting her husband Rupert Murdoch? That's equality money can't buy.
Which brings me to the end of my last column for the Herald on Sunday. I've been here every Sunday since October 2004, but today I say goodbye. It's time for a change, and I leave of my own accord. I started this column when I was an Act MP and I've moved on. I really don't know if I'm left- or right-wing any more. I've enjoyed all the feedback, including the negative and abusive. My first column editor at Metro, the great Warwick Roger, said you must leave readers wanting to shake your hand or hit you over the head and I hope I've done that.
But to paraphrase Brahms, if there's anyone I haven't offended, I apologise.