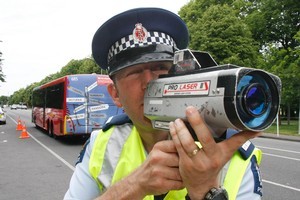 Motorists are being warned to take care on the roads this holiday weekend as police crack down on unsafe driving.
From today, the New Zealand police are joining forces with their comrades across the Tasman to try to reduce speed, after the "horrific" loss of life over the Christmas-New Year holidays, when 18 people were killed.
Operation Crossroads, in action until Monday, will focus on awareness about road safety issues, in particular drink/drug driving, speeding, fatigue, distractions and seatbelt compliance.
Drivers will be allowed only 4km/h over the limit, instead of 10, and more police will patrol the roads.
Acting Superintendent Rob Morgan said the police believed that strategy would focus drivers' attention.
"And we know if we can keep speeds down, we will save lives."
Although Australia and New Zealand had some of the lowest road toll figures last year, the Christmas toll was one of the highest it had been in some time.
The chief executive of Australia New Zealand Policing Advisory Agency, Jon White, said some motorists regarded breaking the speed limits and getting caught as unlucky.
"But the consequences of driving too fast can be very serious. Moderating speed is critical in having safer roads and reducing the chances of injury or death."