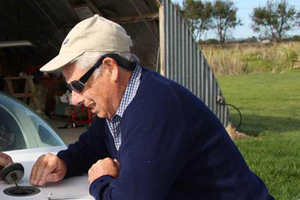 One of the men killed in a light plane crash near Helensville is a former British Merchant Navy captain who once came under fire while flying with a friend from Africa to Britain.
Brian Whiteman died when a Zenair Zodiac plane he co-owned with George Mitchell plunged into a paddock at South Head on Sunday. Mr Mitchell was also killed.
The men had been to the Ohakea Air Show in the Manawatu over the weekend and stayed with Mr Whiteman's friend Ian Bagshaw.
Last night, Mr Bagshaw said he was devastated to lose his best mate. "He was a good mate ... he loved his flying," he said.
"The reason he came down here was to go to Ohakea, and that's where we all went. He stayed with us; it was a great weekend."
Mr Bagshaw said that in the past, he had owned a Cessna with Mr Whiteman. They sold it only a few years ago.
The pair met in the 70s when they both lived in Africa. It was there they bought their first Cessna together. They flew it from Nigeria to Britain.
"We had a few adventures on the way," Mr Bagshaw said.
In 2007, Mr Whiteman spoke to the Northern Advocate about that flight, saying they encountered plenty to test their flying skills and their friendship.
"We had all kinds of fun and adventure - from being shot at by a gunboat to being thrown into jail," he said.
Mr Whiteman, who was retired, was an experienced pilot. Mr Mitchell, from Whangaparaoa, had been taking lessons and hoped to gain his own pilot's licence
The bodies of both men were removed from the wreckage on Sunday night and Civil Aviation Authority safety investigators were examining the scene and debris to find out how and why the Zodiac crashed.
Yesterday, the families were still reeling from the news of the crash.
Mr Whiteman's son said his family were "pretty shaken up". It was too early for them to speak about what had happened.
Mr Mitchell's family asked for more time before they spoke publicly.
A CAA spokeswoman said the investigation into the crash was ongoing and she could not comment further.
On Sunday, the flyers left Paraparaumu about 9am and were expected to land at Dargaville around midday.
They sent regular updates on their trip by text to their flight instructor and friend Murray Foster, but crashed around midday after making a frantic mayday call.
During that call for help, described by those who heard it as patchy and broken up, they said their engine had failed and they were preparing to make an emergency landing.
Soon after, the wreckage of the plane was found by a farmer on his Fuller Rd property. There were no signs of life.
The pair had bought the plane this year and aviation records show they took it over on March 5.