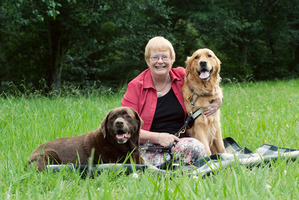 A visually impaired Hamilton woman and her seeing eye dog are regularly left on the side of the road as buses full of schoolchildren drive past and don't stop.
And when Susan Mellsopp and her golden retriever Jay finally do get picked up she said they were often unable to get a seat as the children were "rude" and refused to stand up for her and other elderly or disabled people.
But the Waikato Regional Council, which manages the Waikato's buses, said it can't decide who gets on and off the bus.
Ms Mellsopp is one of a number of adults and children who have waited for up to two hours before getting on a bus because they are full. The Hamilton bus service is put under pressure by a large number of students riding to and from school and university.
Ms Mellsopp had to wait for four buses in Peachgrove Rd after attending an appointment in the area because they were full after collecting students from Waikato University and Hamilton Boys' High.
The regular bus user now avoids the area after 3pm, but still struggles with the service and catches the bus one hour ahead of an appointment to make sure she arrives on time.
Only a few weeks ago Ms Mellsopp and Jay were waiting for the bus outside her work, Waikato Diocesan School for Girls in River Rd, when the bus didn't stop.
When a passenger made the bus driver pull over and Ms Mellsopp caught up to it, the driver said: "Oh, we thought you were just standing there."
She said her dog Jay was trained to take her to the bus stops she used so she knew she was at the right place when it passed.
"You are not standing at a bus stop whistling a tune, are you."
CCS Disability Action access co-ordinator Gerri Pomeroy said accessibility to buses was an issue and she was aware of one person in a wheelchair having to wait for four buses before they could get on.
Another sat in their wheelchair for 45 minutes before an Orbiter bus stopped.
Ms Pomeroy said the Waikato Regional Council mostly catered for impaired people and was the only regional council she was aware of that monitored how many got on each bus.
Waikato Regional Council transport and policy group manager Vaughan Payne sympathised with Mrs Mellsopp but said there were occasions where a driver's view might be obscured by parked cars or other obstacles and they did not see people waiting. " ... if the bus was already fully laden then I am sure people will appreciate we are unable to discriminate by ejecting a person from a bus to make way for another".
The buses had signs encouraging passengers to make way for elderly or disabled people, but Mr Payne said ultimately it came down to how children were brought up.
The regional council tried to address the problem last year by putting on two more buses, but said funding was still the major barrier.
The NZTA and the Ministry of Education say it is the regional council's responsibility to manage the bus network and to make sure it was safe and reliable.
NZTA regional director Harry Wilson said although it was unsatisfactory for people to be waiting for up two hours, it was also important the buses weren't overloaded.
ADDING IT UP
*NZTA funds $6.15 million.
*2 new Orbiter buses added last year.
*$22m cost a year of Waikato bus services.
* 2-hour waits for buses reported.