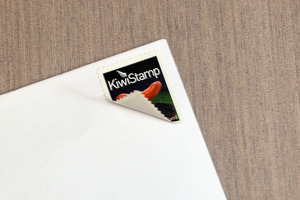 Thousands of postage stamps have been taken off the shelves - for coming unstuck.
NZ Post has received dozens of complaints about stamps from their KiwiStamp booklets falling off envelopes in the post.
The Kiwiana style stamps - which are manufactured offshore - come in booklets of 10 and feature well-loved images such as cricket stumps, fish and chips and flying ducks.
They bear the slogan: "KiwiStamp. Holds its value forever." But many don't appear to hold to an envelope for more than a few hours.
It's another blow in a bad week for those who like sending a letter the old-fashioned way: NZ Post has just announced it will be hiking the price of a standard letter from 60c to 70c from July 1.
Trade Me users have taken to message boards to complain about the stamps' lack of stickability, with letter-writers saying they have had items returned or delayed because there were no stamps attached.
Some said the stamps were so bad they had started securing them with sticky tape.
Michael Tull from NZ Post said the problematic batch was sent to retailers in March last year and had initially performed well but a dozen complaints had come in last month.
NZ Post took thousands of booklets from the batch out of circulation.
"As soon as this issue was identified we worked closely with the supplier to establish what products were affected and to isolate the remaining booklets."
Tull said anyone who had the defective KiwiStamp booklets could call NZ Post on 0800 501 501 to arrange replacements.