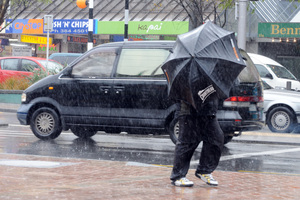 A tropical storm is building in the Pacific and threatens to dampen the beginning of the Easter holiday - but forecasters say New Zealanders should expect a fine, warm weekend before it arrives.
MetService said air temperatures are expected to reach 22C in Auckland today, and the weather would remain mostly clear, with some easterly winds, until Monday.
WeatherWatch.co.nz weather analyst Howard Joseph says winds will start to pick up on Monday for everyone in Auckland and areas to the north. A few showers may move into the far northern tip of Northland during the night.
The high that is producing the warmer weather was expected to drift away from the country next week, and new deluges could hit areas already swamped by rain earlier this month.
"On Tuesday, rain and wind will move south, overspreading the North Island. Heavy falls are possible, especially about Northland in the morning, Auckland in the afternoon and Gisborne and Hawkes Bay in the evening. Also on Tuesday, east winds will strengthen as they spread across the North Island.
Gale force winds are possible" says Mr Joseph.
The incoming tropical weather is connected to the deadly flooding in Fiji says head weather analyst Philip Duncan. "The energy within this system is intense, it producing flooding rains and severe gales and is drifting south towards the North Island".
Very dangerous conditions are also expected at the beach with constant easterlies building surf along the eastern coastline of northern New Zealand. Dangerous swells are expected to arrive on Tuesday.
Four metre swells are possible from late Tuesday and lasting throughout Wednesday and Thursday over north east facing beaches across the upper north.
The wind and rain could linger until Easter, thanks to the secondary low that will form in the Tasman Sea. This could see rain for Saturday and Easter Sunday. "The southern half of the South Island is about the only place in New Zealand that looks to be dry next weekend" says Mr Joseph.
The Automobile Association said a poor weather outlook was unlikely to dissuade New Zealanders from making road trips for Easter.
The National Institute of Water and Atmospheric Research (Niwa) reported that the La Nina weather pattern was fading, but it would still have some influence on the next three months of weather conditions.