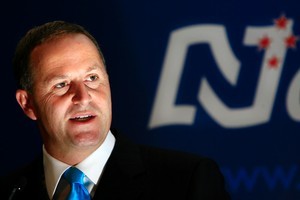 Police will not lay charges against Radio Live over its decision to broadcast an hour-long programme hosted by Prime Minister John Key weeks before the 2011 election.
Radio Live hosted "The PM's Hour" on September 30 last year.
It featured Mr Key interviewing famous guests including Sir Peter Jackson and Richard Branson in what was billed a politics-free hour.
The show was referred to police by the Electoral Commission after it found breaches of election rules.
Detective Superintendent Rod Drew said police had considered the findings of the Broadcasting Standards Authority and the Electoral Commission before making a call on prosecution.
"We have determined that there is insufficient evidence to satisfy the requirements for prosecution.
"This decision follows a thorough investigation, legal review and consideration of Crown Law prosecution guidelines.
"We note that prior to the broadcast RadioLive sought guidance from the Electoral Commission and endeavored to comply with the advice given."
Police said inquiries were ongoing into 23 other referrals from the Electoral Commission on election advertising or election programmes and 62 dual voter complaints.
Labour's deputy leader Grant Robertson said while his party acknowledged the police decision not to lay charges, it continued to agree with the Electoral Commission that the programme broke electoral law.
Regardless of the decision by police today, the fact remains that John Key got free publicity, potentially worth tens of thousands of dollars, when he was gifted the right to host a radio show during the run-up to the election.
The police note that RadioLive made an effort to comply with the Electoral Commission's advice to take extreme care. But that same Electoral Commission found that the programme breached electoral law.
John Key could not resist the opportunity to promote himself and his friendships with celebrities before the election. It was a political stunt and he should have taken responsibility for that, Mr Robertson said in a statement.
- HERALD ONLINE, APNZ