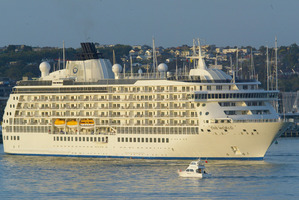 The largest privately owned residential yacht on earth, aptly called The World, will anchor at Whitianga tomorrow.
And the region's tourism boss hopes it could turn the town as a destination port.
At 196m, The World is almost as long as two rugby fields. It is the only private residential community-at-sea, whose occupants can travel the globe without leaving home.
The 12-deck ship with 165 cabins will anchor off Whitianga tomorrow.
Destination Coromandel chief executive Graeme Osborne said The World's residents would be ferried from the ship to the port at Whitianga.
He said its arrival was encouraging for the town which is aiming to stake a claim as a destination for cruise ships.
"This is encouraging to continue, and even increase, our activity in the cruise sector... our aspiration is that this will be the first of many," said Mr Osborne.
About 140 residents lived on board and Mr Osborne said they were generally wealthy who purchased a berth on the ship in the way people would normally buy an apartment.
"Generally speaking it's a long-term arrangement as opposed to someone just hopping on a ship for a cruise."
The World's website says it is home to 130 families from the United States, Europe, South Africa and Australia, all of whom have a personal stake in the ship.
The families circumnavigate the globe every two to three years following an itinerary that they select.
It said its community offered the "ultimate combination of luxury travel with world-class dining, custom tours and enriching cultural events".
The website Greatestrealestateblog.com said a timeshare one-bedroom 30sq m cabin aboard The World carried a price tag of US$256,000 and a 780sq m luxury apartment on level D sold for more than US$12 million.
The ship has a shopping centre, an art gallery, sports facilities, an enormous spa, a 6000sq m casino, hospital, and a private educational centre with professors and lecturers.
The ship, which is 10 years old, will stay at Whitianga for two days.
BIG NUMBERS
Flag: Bahamas
Weight: 43,524 gross tons
Length: 196.35m
Beam: 29.8m
Draft: 6.7m
Decks: 12
Top speed: 18.5 knots
Average Stay: Residents spend an average of four months on board every year.
Crew: An international complement of long-standing crew, including about 260 experienced staff from 40 countries.