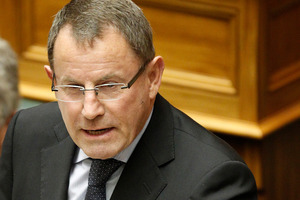 National's contentious Dairy Industry Restructuring Bill could be in trouble before it has barely surfaced with Act opposing a major aspect of it and no guarantee it has the numbers to pass.
The Fonterra Shareholders' Council, representing 10,500 shareholders, yesterday announced it could not support the bill unless it is changed.
The bill does two things: it sets up measures to oversee how much Fonterra pays farmers for their milk; and it allows Fonterra to move to a proposed system for trading among farmers.
The bill is due for its first reading on Tuesday and will almost certainly get just enough votes to be sent to a select committee.
But Act leader John Banks made it clear yesterday that unless the pricing part of the bill is changed in select committee, he would oppose it after that.
Previous dairy restructuring bills have had bipartisan support from Labour and National.
Labour will discuss it at its caucus next week but spokesman Damien O'Connor said the opposition of the shareholders' council should send the Government back to the drawing board on the bill.
The chairman of the Fonterra Shareholders' Council, Simon Couper, said the bill had nothing to do with the retail price of milk - "prices that many farmers agree are too high, with many retailers charging four times what farmers are paid".
The bill was about Government-regulated committees determining how much farmers would earn from Fonterra's overall business.
"We haven't seen that sort of thing in New Zealand since the 1970s and no one will increase their investment in an industry at risk of such draconian Government intervention."
Most caucuses will discuss the bill next Tuesday morning.
The Greens are likely to oppose it.
United Future has not got a position yet but is more likely than not to support it.
National would need one more vote to pass the bill.
New Zealand First is not likely to come to the help of National to support a bill which so many farmers oppose.
That could leave its success in the hands of the Maori Party, which does not have a position yet.