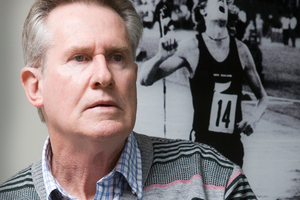 Two Auckland Council members are complaining of threatening phone calls from a man trying to make them support a no-confidence vote against the Ports of Auckland management.
No vote was put to a council meeting yesterday, but Sir John Walker and Calum Penrose are angry about the calls, from veteran protester Marx Jones.
In the 1980s, Mr Jones was jailed for six months for flying a light plane from which flour bombs were dropped on Eden Park during the 1981 Springboks v All Blacks test.
Last night, he said he had called phone numbers for both councillors.
But he denied making threats in warning that if they supported the port company's move to sack its workers, they would be sued for "malfeasance and negligence".
"It's not a threat, it's a promise," said Mr Jones, who added that he and Campaign Against Privatisation spokesman Meredydd Barrar made their intent clear in Herald advertisements inviting "lawyers with a conscience" to spearhead the action.
Other councillors had been called by others involved in the campaign.
Sir John said a threat was made to him through his wife, who was told "they were going to take me to court, they were going to get at me because of the way I'd been voting".
He said that was rubbish as he was away when a vote was last held on the port dispute, and he did not like his wife being threatened.
Mr Penrose said he was threatened after telling a caller on Tuesday that he would "definitely" not support a motion against the council-owned port company.
"He [the caller] said, 'We are going to sue you individually, as councillors, and then we are going to have you sacked. And then we are going to get you'."
Mr Penrose said he did not intend going to the police. "When people go around threatening others, sometimes it's just best to leave it."
Last night, Mr Jones said he had assumed he was ringing Sir John's office as the woman who took the call told him the councillor had gone home.
He denied any formal connection with wharfies, 195 of whom turned up yesterday for their first pay-day in five weeks, while still battling to get back to work since ending a strike eight days ago.
The port company said the number who reported for a "goodwill" payment of a week's wages - pending an Employment Court hearing today to consider a union claim that they have been locked out unlawfully - was "less than expected."
But in making the pay offer in court on Tuesday - before being ordered by Judge Barrie Travis to suspend plans until mid-May to contract out the workers' jobs - the company said that it would not be made to casual workers.
Union president Garry Parsloe said it was pay-day for all, as the union would maintain weekly payments to the casuals.
Donations were flowing in from around the world, including $100,000 from the Maritime Union of Australia, whose secretary Paddy Crumlin addressed the workers yesterday as president of the 5.5-million-strong International Transport Federation.
Mr Crumlin said the right to bargain collectively should not be "a big ask in a civilised country like New Zealand".
This morning, he is to meet Auckland Mayor Len Brown, after an appointment yesterday was postponed because of disruption to the council meeting by protesters.
Council of Trade Unions president Helen Kelly said a written decision issued yesterday by Judge Travis in support of Tuesday's injunction was a "very big slap in the face" to the port company.
The judge found there was a "seriously arguable" case that the port's action in allegedly deciding to contract out work while bargaining was in progress for a new agreement was likely to undermine the bargaining.
In a bulletin to customers, the port company has defended its right to lock out the workers, as a corollary to their right to strike, and said it was operating at 40 to 50 per cent of "normal average" container activity with non-union staff.