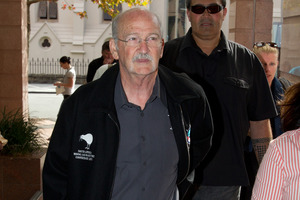 The Maritime Union has a "seriously arguable case'' against the Ports of Auckland's decision to contract out union members' work, the Employment Court says in a written decision.
Judge Barry Travis on Tuesday granted an injunction against the company's plans until mid-May, but reserved his reasons until today.
In his written decision, Judge Travis said there was a "seriously arguable case'' that the company's decision to contract out union members' work would seriously undermine bargaining on a new collective agreement, while bargaining was still underway.
"It will also, arguably, undermine the bargaining in the future.''
Judge Travis said it was arguable that would be in breach of the Employment Relations Act.
Maritime Union president Garry Parsloe today welcomed the written reasons for the injunction.
"This decision reiterates the fact that the port board is not able to manage the port in the manner required by law,'' he said.
"The crime here is the workers at the port have suffered five weeks without pay because their legal right to bargain was undermined.''
Mr Parsloe said businesses and Aucklanders had suffered as the port company tried to implement its "ill thought out plans''.
"It is time for this to stop now. We are ready to negotiate a collective agreement. We want to return to work and we want this attack on our workforce to stop.''
In his decision, Judge Travis said the union had argued the port's decision to contract out work had caused fear among workers and put pressure on their families, which had undermined collective bargaining.
"There is evidence in the affidavits before the court which makes this arguable.''
Judge Travis said it was less arguable that the dismissal proposals constituted an unlawful lockout because the port's actions appeared not to meet the definition of a lock out.
He said if the dismissal proposals were allowed to proceed before the issues could be resolved, there would arguably be irretrievable consequences for those employees.
The injunction bars the port from taking further steps to make union members redundant, or to dismiss members.
It also bars the port from using contractors to do the work of striking or locked-out workers.
The port must not advertise for, train or recruit contract workers, or encourage union members to seek or accept employment with the contractors.
It may not take any further steps towards voluntary redundancy until tomorrow.
- APNZ