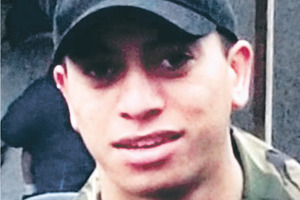 Police have admitted that a Hawkes Bay teenager had more bullet holes in his clothes than they first said - but his family will have to wait weeks for final answers about the night he died.
Lachan Kelly-Tumarae, 19, was shot dead by police after he threatened them with a loaded shotgun in Fernhill, near Napier, in March last year.
His family told TVNZ's Close Up programme his clothes had what looked like 13 bullet holes - but Detective Superintendent Andy Lovelock, when first questioned, said there was only a single bullet hole.
Yesterday, he told One News there were in fact four holes in Mr Tumarae's clothing caused by bullet wounds. Mr Lovelock said a second shot hit Mr Tumarae in the leg and passed right through and into his other leg, leaving three holes because of that one bullet. Another shot hit him in the abdomen. Both are believed to have contributed to his death but the investigation won't be over until some time next month.
Mr Lovelock said he would be meeting Mr Tumarae's family to discuss the findings. It has also been revealed Mr Tumarae didn't fire at police before he was shot, although he was armed with a shotgun and had threatened officers.
"There were two boxes of cartridges in the car and he presented his firearm immediately at police that were close to him, and in turn at the police officer who was nearby and later discharged his police Glock. The result was Lachan ultimately died from injuries caused by police," Mr Lovelock said.
- Staff reporter