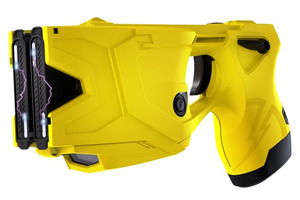 A double-shot Taser stun gun will make volatile situations safer for everyone, says the Police Association president.
Plans were yesterday confirmed about the phasing in of an updated taser model that fires two high-powered charges.
The existing "fleet'' of Taser X26s will be replaced with Taser X2, that can fire a back-up shot removing the need to re-load after the first shot, said Superintendent John Rivers.
"The routine and pre-programmed replacement of the New Zealand Police Taser fleet means police have the opportunity to replace the fleet with the most up-to-date model.''
The new model is similar to the version currently in use, firing two small prongs that attach to a suspect's clothing or body.
Mr Rivers said it delivered high-voltage electrical pulses designed to "incapacitate the offender''.
The technology would increase safety levels by helping to prevent the "escalation of response if the first taser fails'', said Police Association president Greg O'Connor.
If one prong didn't hit its intended target, police would be able to fire a second shot without having to re-load in what could be a volatile situation.
"It is a far more effective and safer way for everyone when subduing an out-of-control situation,'' he said.
"Compare that with using a police dog, pepper spray or a baton. We are often left with no alternative than the next level, which is a firearm.''
However the plan has been met with criticism.
Campaign Against the Taser spokeswoman Marie Dyhrberg said there needed to be more publication and debate before introducing the new technology.
"The introduction of the new Taser may be seen by some front line police officers as being a warranted response to increasingly dangerous situations, whereas in fact this is not the case.''
"If police were working at improving de-escalation skills then that would bring more confidence that the instances of any abuse would be greatly minimised.''
Green Party police spokesman David Clendon , said the plan could be a "creep'' towards Tasers being used more regularly, something the party was worried about before they were trialled in 2007
"I would like to see the justification by the police, why they would need such a weapon.
"We know that the weapons can be lethal, there have been recent examples internationally of people being killed by being tasered, I'm sure nobody wants that, including the police.''
He was worried the more powerful models could normalise high-level responses over lower-level responses.
"We don't want these things to become the default response, rather than a high-end response to extreme situations.
"They are capable of killing people, and not necessarily old people, or frail people. We have had examples of quite young, fit people being killed by these things internationally.''
However, Mr O'Connor said more lives and injuries were saved with the taser than without it.
Superintendent Rivers said the national Taser programme had been "a resounding success'' in ensuring violent offenders were ``prevented from achieving their goal of violence, fear, harm and victimisation''.
"The Taser programme in New Zealand has ... safely concluded many violent and potentially lethal incidents with minimum injuries to the public, police and offenders alike.
"The mere presentation of a taser is sufficient to stop violent and threatening behaviour 80 per cent of the time, and this makes the taser a valuable tactical option.''
The development comes after several incidents in which the older model failed to work on armed suspects.
In July 2010 police in Auckland shot a 38-year-old man after a Taser proved ineffective. A week earlier the stun gun failed during an incident in Christchurch in which two officers were shot and a police dog was killed.
Less than a fortnight ago, a 27-year-old Somali man was tasered then shot by police after an alleged kidnapping and stabbing rampage, also in Christchurch.
The man was pepper-sprayed then tasered, but eye-witnesses said the electric shock did not work and "only made him angrier''.
- APNZ