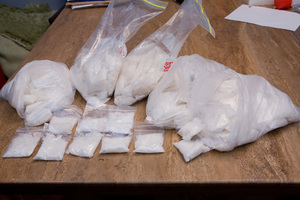 The head of one of the largest crime syndicates in New Zealand was caught with firearms and a 5kg stash of methamphetamine less than a year after a High Court judge dismissed money-laundering charges against him because of a lack of evidence.
Feng Chih "Daniel" Hsu and Aenoy "Dion" Bouavong were the main targets in Operation Acacia, a 12-month covert investigation into an underworld network spanning Auckland, Waikato and the Coromandel which was manufacturing, selling and distributing the Class-A drug.
The pair recently pleaded guilty to methamphetamine possession and supply charges, which carry a maximum sentence of life in prison.
But the admissions can be reported only now after a High Court trial found their co-accused guilty of serious drug offences this month.
When armed police raided Hsu's North Shore home in July 2010, detectives found 5kg of methamphetamine, 2kg of ContacNT - which contains pseudoephedrine, the main ingredient in P - a cache of firearms and ammunition and $20,000.
The discovery was described as one of the most significant seizures of P made in New Zealand.
Referred to as "elder brother" or "Big Daniel", Hsu was the head of the organised crime enterprise and able to source large amounts of methamphetamine and pseudoephedrine from overseas.
The drugs would be delivered to his righthand man Bouavong who passed the parcels to trusted lieutenants such as his brother Phokam, Derek Poon, Henry Mika and Tavita Maleko.
In turn, they would supply lower-level dealers in the syndicate such as Aenoy Keophila and Thi Hong Lan Nguyen, who Dion Bouavong called his "fishing friends" in bugged phone calls.
The joint inquiry between the Organised and Financial Crime Agency and the Auckland Metro Crime and Operations Support relied on intercepted conversations from tapped cellphones.
More than 80 phones and 46,000 private communications were intercepted over the course of the inquiry, and those caught on tape spoke in code.
Detectives were also able to establish a link between the Auckland drug network and methamphetamine cooks in the Coromandel Peninsula.
That link was two Vietnamese men, Phillip Ly and Hoang Quoc Nguyen, who obtained pseudoephedrine from the Hsu-Bouavong enterprise and sold the Class-C drug to Delia Fonotia.
She passed on the ingredient to Steven John Mehrtens, from Whangamata, and Waihi man Scott Warren Filer.
Both were found guilty of manufacturing between 3kg and 4kg of methamphetamine in clandestine labs and Filer was sentenced to 17 years in prison. Mehrtens, 56, is on the run from police.
Another fugitive is Jiuliang Wei, the sole director of Auckland money exchange business Dreamland Finance. He fled the country to China before he was charged with laundering nearly $2 million cash for Hsu and Bouavong over a 12-month period.
While there is no extradition treaty with China, police have seized Wei's 15ha property in Franklin, south of Auckland, worth around $2 million. His finance manager, Xiang Zhang, was acquitted of two money-laundering charges.
Police are unable to comment as the case is still before the courts until sentencing in May.
But at the time of the arrests, Detective Inspector Steve Wood described the disruption of the organised crime syndicate as "one of the most significant seizures of methamphetamine made in New Zealand".
Hsu was playing video games when armed police surrounded his home in July 2010 and discovered 5.5kg of P and a cache of firearms.
His girlfriend, Nancy Wang, was yesterday found guilty in the Manukau District Court of possession of a Class C drug for sale.
A criminal source described Hsu as a "big fish" and said his incarceration had created a large gap in the underworld.
The Herald can now reveal that the 36-year-old was discharged on money-laundering offences just nine months before his Operation Acacia arrest when a High Court judge ruled police did not have enough evidence to prove the case.
Three years earlier, police seized $985,025 in a suitcase from the same property, as well as a new Lotus sports car that Hsu paid for with $125,000 in cash.
Police have also seized Dion Bouavong's late model Mercedes Benz and $400,000 cash.
OPERATION ACACIA
* 5.5kg of methamphetamine.
*2kg of ContacNT.
*21 firearms.
*$400,000 cash seized.
*22 arrests in Auckland, Waikato and Coromandel.