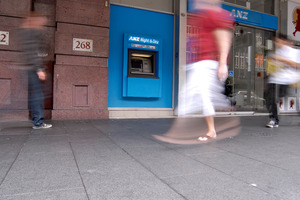 ANZ is aiming to refund victims of the ATM scam within 24 hours - but some customers are frustrated they are losing money days after the fraud became known.
The bank and police are continuing to investigate the scam - which widened to include a fifth machine in Orewa - with up to 500 card holders affected.
International fraudsters have placed a device over the slot where a card is inserted that collects information, while a small camera positioned above the keypad captures the PIN number being entered.
Thousands of dollars have been taken with the cash withdrawn in Milan, Bangkok and in Hong Kong, among other cities.
Yesterday, a spokesman for ANZ National said they were still assessing the number of cards that had been used during the days the scammers are thought to have struck.
One customer, who asked not to be named, said she lost $3000 at 4pm on Monday, well after news broke of the scam and despite having a daily withdrawal limit of $800 on her account.
It is likely her card details were taken in early February but the withdrawals were made later than the first batch which triggered alarm bells at the weekend.
She was paying two bills online and in between paying them there were eight transactions made.
"I'm surprised they stopped though because there was considerably more in that account and if the daily limit wasn't in effect I wonder why did they stop?"
She was told it could take up to five days for a new bank card to be issued which would leave her without access to money.
"So in effect you get hit twice ..."
The loss was frustrating, she said.
"The money is sitting there and you think it's in a secure environment and put everything in place when there is a daily limit obviously they can override."
Another customer said she had lost $6000 with the money being withdrawn in Milan and Hong Kong.