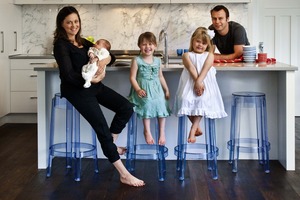 Actress and television personality Greer Robson-Kirk says she was "stretched like a rubber band" as a new mum, but has learned not to try to do everything at once.
Robson-Kirk is mum to Sienna, 6, Indigo, 5, and 19-month-old Hudson.
Having her two girls so close together made for hard work and it soon became very hard to juggle work and her role as a mum, she said.
"That was very challenging ... I was working three days a week.
"I was working for a corporate and understandably, expectations of me were high. Sometimes I ended up doing extra hours to fulfil my role."
Robson-Kirk, who is also a lawyer, juggled an office job as well as a TV role and writing a magazine column.
"I was stretched like a rubber band. I was trying to do everything to the best of my ability like being a great mother and feeling like I probably wasn't doing that ...
I was trying to do well at my job, but feeling compromised obviously with the children and then not wanting to compromise your children. And then of course your husband as well, who you have to maintain a relationship with."
She said the mentality that "girls can do anything" had been a message that she had grown up with and therefore strived to make happen.
But that led to a feeling of guilt when things didn't always go as planned.
"I think our generation has discovered that girls can't do everything. I think you do constantly feel guilty because you're not able to be with your children all the time.
"They really are your first priority, but then it's also very important to be feeding them and clothing them and housing them..."
Since having baby Hudson, Robson-Kirk said she and husband Scott had decided she would cut back all other work and be a fulltime mum.
"It's great. I get to spend more time with him and we're happier."