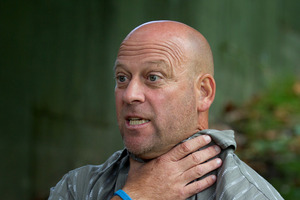 A man who shoulder-barged a teenager off his skateboard and attacked a man who later complained has said he was set up by a group of teenagers.
Craig Platt was seen in a video knocking a teenager off his skateboard and attacking a man who confronted him at a competition for children as young as 6 at Victoria Park, Auckland.
The footage was taken as Mr Platt was judging one of the categories for the Skinny & Serenity National Grom Skate Comp.
A teenager wearing a green T-shirt approaches Mr Platt on his skateboard when he pushes the teen who stumbles to the ground. Later, the clip shows Mr Platt pushing a man away from him by the throat.
Mr Platt said he was sorry for his actions, but believed he was set up.
"These guys turned up and they just kept cutting everybody off. One of them leapt the rock garden and whacked into a little, tiny kid and just walked away," he said.
"I asked them several times to stop. I got abused. They kept doing it - interrupting, cutting people off. That's when I stepped towards him.
"Look ... I hit him harder than I actually realised. When I see the footage, it doesn't look flash. But I just wanted to stop him.
"I didn't hit him, I just wanted to stop him there so he didn't go flying into the rock garden where the little kids were."
The teenagers continued to cut people off after the altercation and two security members had to come in to stop them, Mr Platt said.
"They were just trying to cause trouble."
He said he had apologised to the young man, but was met with verbal abuse.
About two hours after the incident, another skateboarder, Leighton Dyer, confronted him about the incident. The footage shows Mr Platt pushing Mr Dyer by the throat.
Mr Dyer says: "You don't touch little kids!"
Mr Platt, pointing to the teenager in green, is heard saying: "He cut little kids off!"
Mr Platt said he had received threats since the video was posted online and was considering speaking to police.
The main organiser of the event, drug rehab clinic Serenity, was yesterday criticised for handing out spray cans to competitors and apparently encouraging them to tag the names of so-called sponsors, including Cheapskates, Dick Smith and New World.
Serenity programme director William "Doc" Murdoch said yesterday that the children were only meant to paint wooden boards that were going to be repainted that night.
However, some got carried away, tagging many of the park's brand new concrete ramps.
Mr Murdoch said they were in no way connected to Mr Platt and did not condone violence.
But Mr Murdoch, who had been at the event, said the whole thing was staged. "I think it's really unfortunate that you had a guy show up with a video camera, who on purpose brings some people to the park to disrupt the competition."
Auckland Mayor Len Brown yesterday announced on Twitter that an investigation was taking place.
Contractors were yesterday painting over graffiti at the park, at the cost of the organiser. Inspector Andrew Coster said police were aware of the footage and allegations of assault and wilful damage at the event, but hadn't received any complaints.
Sponsors were keen to distance themselves from the event.
New World's emblem was included on the flyer but a spokeswoman said the supermarket was never a sponsor.
Cheapskates said it was "shocked and dismayed" at the behaviour and actions of the organisers of the event.
"We were not involved in the organisation of the Victoria Park event in any way - other than to provide prizes."