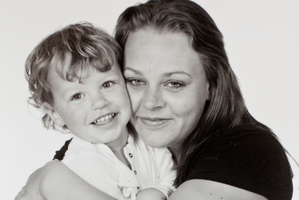 The family of a young Auckland woman who died in a car accident say her only child will not accept that he has lost his mother, and cannot bear the thought of her being buried.
Amanda Hunt, 26, died on Friday morning after her car veered across the centre line on a blind corner on Glenbrook Rd, near Waiuku, and hit a truck travelling in the opposite direction.
Counties Manukau police are still investigating the crash, but told her parents, Stephen and Debbie Hunt, that their daughter fell asleep at the wheel of her vehicle and was killed instantly.
Debbie Hunt said the fact that her daughter died immediately was of some consolation. "I'd hate to think she was suffering on the side of the road and no one was there for her."
Mrs Hunt said it was a "treacherous bit of road - we know a few people have been taken there".
Amanda Hunt's 5-year-old son, Riley, will now be brought up by his grandparents.
Riley wrote in a death notice: "Mumma, you're the brightest star in the sky. Nana and poppa will look after me for you. I love you mumma, for always."
Mrs Hunt said Riley was in denial about the loss of his mother.
"He's saying that he doesn't want to say goodbye. He doesn't want her to go in the ground. And that we've all got red eyes ... so we've got to stop crying.
"I'd say it's such a waste of a life but it's not. Because she did so much in that short 26 years. She gave us our most precious gift, a first grandchild."
Close friend John Gartshore said Ms Hunt had spent Thursday night in Auckland with friends, and contacted her mother to say she was too tired to drive home to Waiuku.
She slept, then decided to drive, but crashed 5km from her home.
Mr Hunt said the truck driver knew the family, and had been too devastated to check car after the crash. "Waiuku is a small place and he knew it would be someone he knew."
Amanda Hunt was born and raised in Waiuku and attended Waiuku College and later Wesley College.
Her father is a horse trainer, and she loved riding.
She worked as a resource consultant at recruitment agency Adecco.
Mr Gartshore said she had an incredible knack for mentoring people who had lost confidence.
"There is so much negativity around solo mothers. But she was a determined, young, single mother trying to make her mark in the world, and care for her son."
Ms Hunt's funeral will be on Thursday at the Waiuku Rugby Club.