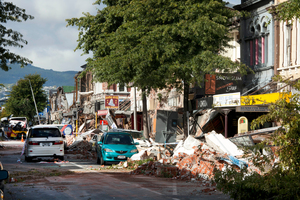 Earthquake repairs have started on Lyttelton Harbour roads and Dyers Pass Road to secure key Christchurch transport routes.
The Stronger Christchurch Infrastructure Rebuild Team (SCIRT), charged with rebuilding the city's earthquake-damaged roads, fresh water, wastewater and stormwater networks, has today revealed key sites to undergo work.
City Care, as part of SCIRT, is undertaking the repairs of earthquake damaged roads and footpaths on sections of Dyers Pass Road (from Colombo Street to Governors Bay) and along the inner harbour road from Lyttelton West to Teddington.
SCIRT general manager Duncan Gibb said: "The earthquakes have put pressure on transport routes between the inner harbour and the city, so it is important that the Dyers Pass link is in good repair."
Work will only include 'pockets' or small sections of repair work in these areas, which are due to finish in a section of Governors Bay Road and Teddington Road in late April.
Mr Gibb said: "This is a project which covers a large geographical area and we will be using different types of communication to keep the various inner harbour communities up to date with the progress.
"Work notices which include maps of the upcoming worksites are an important tool and we've already delivered these to around 350 houses."
The nature of the inner harbour means that some sections of the road contain blind corners and tight bends and SCIRT has emphasised a focus on safety.
"Our workers are well trained but they are not bulletproof and we want them to get home safely to their families," Mr Gibb says.
"To ensure the safety of our many workers and all road users, we rely on everyone following the onsite traffic management including adhering to the 30kph speed limit through the worksites."
- APNZ