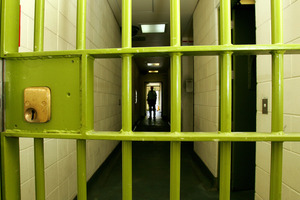 A man accused of assaulting a woman and aggravated robbery has walked free on bail despite police opposition - while, the same morning, the judge locked away another man accused of a domestic assault.
There were clear differences between the cases: the second man was alleged to have already breached his bail conditions once by contacting his victim through his father.
Under pressure from the families of Christie Marceau and other murder victims, Justice Minister Judith Collins has announced plans to tighten the circumstances in which people accused of serious sexual or violent crimes can be granted bail.
On Friday, Herald on Sunday reporters sat in on 33 different bail hearings in four different district courts - Auckland, Manukau, Wellington and Porirua.
They revealed a complex range of factors influencing judges' decisions on bail.
One court attendant said about 20 per cent of custody cases were currently getting bailed, which seemed low.
Anecdotally, it appeared judges were taking a conservative approach to granting bail.
In Auckland, Lenty Tafutu, 36, was charged with assaulting a female, supplying marijuana, drink-driving, and aggravated robbery.
Police said Tafutu shouldn't be granted bail, as there was a need to protect victims and the public - but his defence said he was a family man and considering rehab.
The judge said Tafutu could be released on bail "on very restrictive terms" such as staying more than 500m from the victim; a 24-hour curfew except when working; no alcohol to be consumed in public; no drugs, and "don't offer violence".
Earlier that morning, the same judge had remanded Bradley Burke, a 27-year-old painter, in custody. Burke had originally been arrested for domestic violence - including strangulation - against his partner. He had been bailed, but then allegedly breached his conditions by using his father to contact the victim, moving house and failing to appear at a probation meeting.
The Manukau District Court also had a busy day of cases involving bail requests.
A 33-year-old man was remanded in custody after he appeared on charges of intimidation and threatening to injure a woman.
Jim Ansley Derby, 25, also remained in custody despite a bid for bail while appearing for allegedly breaching a protection order, and for behaviour amounting to psychological abuse of his ex-partner.
In the Wellington District Court, Mista Hubbard was bailed after appearing on charges of aggravated robbery, possessing a weapon, burglary and resisting police.
But Anita Schwabe, charged with threatening to kill and possessing a weapon, was remanded in custody.
In the Porirua District Court, Martin Tressider, 21, was charged with assaulting a female. The judge remanded him in custody for three months.
- additional reporting: Amanda Best, Mary Baines, Julian Lee