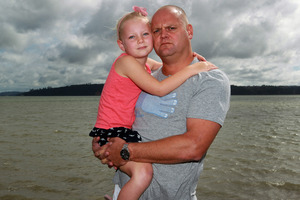 A father who watched in horror as his 4-year-old daughter plunged into the sea from a ferry docking at Coromandel is angrily demanding answers from the boat's operators.
Little Poppy Chisholm fell about 3m as she tried to get off a 360 Discovery Cruises vessel from Waiheke after spotting her grandfather waiting for her on Hannaford's Wharf.
Her father Andrew, his wife Kirsten and their other daughter Sophie, 10, feared the worst as Poppy hit the water between the boat and the pier.
He said there was no ramp in place to assist passengers to leave the craft and a quick-thinking friend who was on the wharf had to scramble down a ladder and haul traumatised Poppy to safety.
"As we were getting off, Poppy saw her granddad and she suddenly let go of my wife's hand and just ran for it," Andrew Chisholm, 41, told the Herald on Sunday.
"There must have been about 100 passengers on board and no ramp or assistance from staff to help people off.
"I reckon there was a gap of about 50cm between the boat and the wharf and Poppy just disappeared from sight and fell straight down into the water.
"I couldn't see what was going on at first but when I heard her big sister screaming I knew something had happened to Poppy. My wife thought she had just watched her youngest fall to her death."
Fortunately, the little girl knew how to swim and quickly popped back to the surface and clung to the side of the wharf.
Poppy was taken to a nearby medical centre where she was treated for a head cut and bruising, and scratches on her back and shoulders.
Andrew, a consultant from from Westmere, Auckland, said he was fuming that he still hadn't had satisfactory answers about what happened from operators 360 Discovery since the mid-January incident.
"This could have had a very different and tragic outcome and I don't want this to happen to any other family," he said.
A spokeswoman for Auckland-based 360 Discoveries told the Herald on Sunday an investigation was under way and that a ramp was not in use because of the tide. "We are glad Poppy is recovering well from her ordeal."
Maritime New Zealand said it was also investigating.