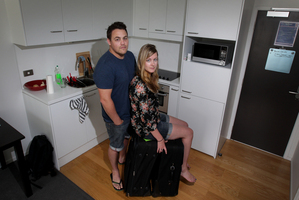 Strike fees and administration costs totalling almost $900 - as well as containers almost a month late - were the last things Jenn Laidlaw expected to run into on her move from Canada to Auckland.
But the port dispute has caused those frustrations and now her cargo has seen more of New Zealand than she has.
"I've been charged about $1500 with all these costs to get them here, but they're not even on time - it's just so frustrating."
Ms Laidlaw arrived here with her Kiwi partner, Simon Kear, at the beginning of February.
Unaware of the tension between Ports of Auckland and the workers, they paid $600 for their two small 3cu m containers to join them on February 29.
Soon after settling into their downtown Auckland apartment, they received a call saying their containers would be a week late.
"At first we thought, 'It's not the end of the world' and we anticipated that bringing things across the ocean might not arrive in time, so we packed three suitcases each just in case. But then we kept getting calls telling us it would be another week, then another week."
She said the most frustrating consequence of the delayed cargo was having to live without simple household items like pots and warmer clothing.
The couple's containers are in the country, but were sent down to Lyttelton before being moved up to Tauranga. They are now on a train and due to arrive on Monday.
"But I'm not holding my breath, we've been told that so many times," said Ms Laidlaw, 29.
"Now my container has seen more of the country than I have - I hope it has a passport stamp by the time it finally gets here."
But what really added salt to the wound was a $98.14 "Auckland port strike surcharge" which appeared in their invoice from their freight agent at this end, Redfort Group.
The strike fee came on top of $800 in administration costs, a port service charge and delivery fees.
"Is this how New Zealand operates? It certainly doesn't encourage people to move to this country ... It only cost me $600 to ship my crates in the first place and now I have to pay double that for a bunch of administrative bullshit." An angry Ms Laidlaw wrote a letter to the Ports of Auckland complaining about the $900 costs and their late containers.
A reply said shipping lines were the ones that made decisions to re-route vessels to other ports around New Zealand. Similarly port fees came from the forwarding company.
Redfort operations manager Lisa Arundell said she sympathised with Ms Laidlaw but the organisation had to pass on the shipping company surcharge and the most it could do was offer a $30 discount on a $150 Customs clearance fee.
Meanwhile, the waterfront dispute is headed back to court next week, after the port company again yesterday refused to let union members return from a four-week strike.
The council-owned company told the Maritime Union it would not take 235 of its members back until at least next Friday, even though they voted on Thursday to end their strike despite being given 14 days' notice of a lockout from April 16.
That prompted the union to apply to the Employment Court for an urgent injunction, claiming their members have been illegally locked out in the meantime. The court has agreed to hear the application on Tuesday.
- Additional reporting: Mathew Dearnaley