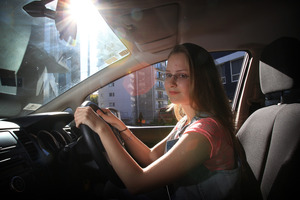 Driving students have failed their licence tests after applying the new give-way rules before the big change takes place.
New Zealand's biggest rule change on the roads in 30 years starts at 5am tomorrow.
The New Zealand Transport Agency expects a smooth transition when the two give-way standards are altered, but with some hesitant driving at intersections.
Insurers and panelbeaters though are waiting nervously for the switch, not knowing how it could affect their businesses.
Driving instructors reported that some of their students had been too eager to apply the new rules in the past two weeks, and had found no leniency from driver licensing agencies.
A1 Driving School owner Harald Leeuwenburg said two students had failed their restricted test - which cost $135 to sit - this week because they followed rules which do not apply until tomorrow.
"They were a bit confused. Being a test and being nervous, and having talked about the change, they failed on giving way when they were not supposed to be."
Institute of Driver Educators vice-president Peter Shepperd confirmed some students had struggled in their tests because they failed to decide which set of rules they should be following.
The institute advised instructors to focus on the old give-way standards while they were still in force, but tell students briefly of the new rules.
Instructors said students were the least likely to have problems because the road rules were in the front of their minds.
Learner-driver Maria Polishchuk, 19, said she had taken 10 lessons for her restricted licence test, and was taught the old rules in all of them.
Her test is in April, after the rules change.
"When you're learning it's easier to change, because I have just learned the give-way rules and I'm not too attached to them," she said.
Automobile Association motoring affairs general manager Mike Noon said that in most international cases where the give-way rules had changed, the crash rate dropped because drivers became more cautious.
"It's worth emphasising that when they had similar changes in Victoria, Australia, in 1993 they went smoothly and, if Australian drivers can do it, the AA is sure Kiwi drivers will adapt just as quickly and easily."
Collision Repair Association general manager Neil Pritchard said panelbeaters were being optimistic if they expected a windfall after the rule change.
"Some of the members might be rubbing their hands at the thought of the extra volume of work," he said.
"The feeling is that there won't be carnage or mayhem, but there might be a few more low-speed bumps where a couple of cars are dodging forward, wondering who's going."
Panelbeaters could handle extra work because better brakes and stability control had greatly reduced the number of small crashes.
Insurance council Brett Solvander said insurers welcomed the changes because it brought New Zealand in line with international standards and would reduce car crashes.
Crashes at intersections in New Zealand