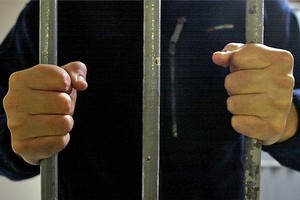 A Mongrel Mob member has been jailed for using threats and intimidation to force his way into living at a rural Wanganui property and trying to extort thousands of dollars from his victims.
Joseph Hapeta, 41, was sentenced to three years and five months in prison in the High Court at Wellington today.
He earlier pleaded guilty in the High Court at Wanganui to a host of charges including blackmail, kidnapping, threatening to kill, robbery, assault and cultivating cannabis.
The court today heard how Hapeta arrived unannounced at the rural property of a 60-year-old man he did not know and took up residence in a cottage on the property in April 2010.
The victim, referred to in court as Mr F, felt like he did not have a choice in the matter and allowed Hapeta to stay.
Hapeta soon took advantage of Mr F and began acting in a controlling and dominant way.
He forced Mr F to call him "your honour'' and threatened to kill him and his family if he did not.
On one occasion Hapeta and Mr F travelled to another rural property to visit Mr F's 63-year-old friend, known in court as Mr B.
Hapeta told Mr B he was a Mongrel Mob member and threatened to kill him and burn down his house if he did not pay $20,000.
He forced Mr B to withdraw $360 in cash, which he took, and to hire a trailer so he could take Mr B's property including a TV, a stereo, two mopeds and tools.
In November 2010, Hapeta made Mr F sign a tenancy agreement that stated he would have to pay Hapeta $20,000 if he tried to make him move out of the cottage.
He also threatened to burn down the cottage and throw Mr F off a cliff if he tried to have him removed.
Mr F finally went to police in December 2010.
In a victim impact statement, Mr F said he felt he had to leave his property, which he sold at a loss. He also had to have his dogs put down because he could not take them to his new home.
Mr B said he felt his only option was to move to Australia. Hapeta had ruined his life and his plans for his retirement, becaused he was unable to find work when he returned to New Zealand.
Defence lawyer Chris Tennet said his client was remorseful and had entered a guilty plea voluntarily.
He had been accepted into an alcohol and drug rehabilitation centre and a sentence of intensive supervision was appropriate.
Mr Tennet said Hapeta wanted to move away from his old life and treatment would help that.
"He sees this a way to actually get out of the Mongrel Mob.''
Crown prosecutor Lance Rowell said Hapeta had put his two victims through an ordeal and jail was more appropriate than "the leap of faith the court is being invited to embark upon''.
Justice Jillian Mallon noted Hapeta believed his relationship with Mr F was one of respect and companionship, and his actions had been misunderstood.
But she said Hapeta had used fear and intimidation in a deliberate and prolonged attempt to extort his victims.
The men were vulnerable and felt unable to resist due to their older age and social isolation.
Justice Mallon noted Hapeta had about 120 past convictions and had spent time in jail, but the kidnapping and related crimes were "by far the most serious offending to date''.
He had a dysfunctional upbringing and had suffered from the murder of his partner, and subsequently had drug and alcohol dependency problems and post-traumatic stress disorder.
Justice Mallon said Hapeta's guilty plea and his remorse were mitigating factors, but a jail term was appropriate as a denunciation and deterrent.
- APNZ