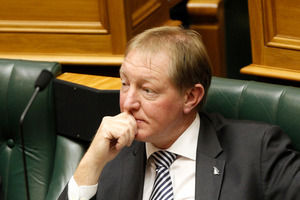 After weeks of sympathetic media being fed stories of local government profligacy, the responsible minister, Nick Smith, revealed, surprise, surprise, his plans to rein in the mayoral spendthrifts.
That was on Monday. Two days later he was out of office, but not, alas, because of his "better local government" programme. That survives, a poisoned chalice his successor as Minister of Local Government is left to force upon the sector.
The proposed reform purports to be an instrument of good, spreading the "Auckland governance innovations" around the rest of the land. But in promising to "refocus the purpose of local government" it goes much further. The Auckland reforms were about creating a strong local partner to work alongside central government. A bit of a myth, to be sure, but that was how it was painted.
The Smith reforms are just the opposite, endeavouring to strip local communities of much of the autonomy granted in reforms of a decade ago. They mock the requirements in the Local Government Act 2002 for councils to have regard to the social, economic, cultural and environmental well-being of the local community, and proposes to replace these "well-beings" with the narrow task of providing "good quality local infrastructure, public services and regulatory functions at the least possible cost to households and business".
Just to rub in local government's inferior role in the body politic, the Smith report spells out that the "important words in the new purpose statement" are "local" to differentiate from services better provided by central government, and "public" to "clarify that councils should not try to replace services provided by the private sector".
Taken literally, the last proscription could cover anything from bus and library services to swimming pools.
There will also be new "fiscal responsibility requirements", greater power for politicians to fiddle with staff numbers and remuneration and other technical adjustments. But it's the bully boy tactics over the "four well-beings" that highlight the true intentions of this plan.
To back his case, Dr Smith laughs at unnamed councils that set targets for NCEA pass rates and reductions in greenhouse gas emissions and child abuse rates in their community. He says such issues are not local government responsibility. This is no doubt a dig at the Auckland Spatial Plan, which Auckland Council was required to prepare by last year's minister, Rodney Hide.
Yet the Auckland Plan is supposed to be a guiding document, prepared in co-operation with stakeholders, both private and public, local and central government. And even if this year's John Key-led Government disagrees with Mr Key's first administration, it's hardly justification for punishing local government by stripping it of social, cultural and environmental responsibilities it has embraced for 100 years or more.
What's so corrosive about this paper is the lack of detail. There's no definition of the key determinants for future local government - "good quality local infrastructure" and local "public service". It's like a grenade thrown into the council chamber, and now everyone is forced to stand around and wait for it to go off for the damage to be revealed.
Dr Smith says fireworks displays are okay, but buying farms is out. Where that leaves Auckland Council's regional farm parks is yet to be seen. Of major concern is the fate of the 10 beneficiary organisations publicly funded under the Auckland Regional Amenities Act, and Auckland Museum and Motat, which are ratepayer funded under separate acts of Parliament. Together, these organisations represent the social and cultural heart of Auckland. In Wellington, central government funds the equivalent organisations - in part with Aucklanders' taxes. In Auckland, we do it locally.
If such funding is no longer to be a responsibility of Auckland Council, is Mr Key planning to pick up the $26.6 million tab for funding the Auckland War Memorial Museum, and the $11.7 million for Motat and $13.7 million to help fund everything from surf lifesaving to the Auckland Philharmonia Orchestra, supported under the regional amenities legislation?
Local government is everyone's favourite whipping boy, but before we all join this latest witch-hunt, let's get an assurance from Mr Key that if he is to ban local communities from continuing their historic cultural, environmental and social responsibilities, that central government will take up the burden and do what it's long done for lucky Wellingtonians - fund these activities out of general taxation.