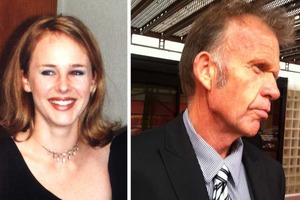 A Blenheim man has been found guilty of harassing a woman he believed to be murder victim Olivia Hope.
Simon Hugh Bell, 54, pleaded not guilty in Wellington District Court to criminally harassing the woman.
But after an hour of deliberating this afternoon, the jury found Bell guilty.
The jury has been told the 44-year-old woman Bell believed to be Olivia was born in Australia, held an Australian passport, and had no idea who Olivia Hope or Ben Smart were when Bell accused her of being Olivia.
The missing pair were last seen boarding a yacht in the Marlborough Sounds early on New Year's day in 1998. Their bodies have never been found.
In 1999 Scott Watson was convicted of murdering the pair, and was sentenced to life imprisonment with a minimum non-parole period of 17 years.
Judge Susan Thomas told the jury today they must put aside their feelings on Watson's conviction.
She said this was not a relitigation of that case.
Instead, it was about whether Bell had criminally harassed the Blenheim woman.
Crown prosecutor Jackson Webber said in summing up it would be easy to think the matter was trivial but that the woman's evidence showed it was anything but.
"She wasn't being melodramatic or over the top about it,'' Mr Webber said.
She had told of how Bell's alleged accosting her in the street and taking her photo, combined with his distribution of leaflets throughout Blenheim showing her photo, caused her anxiety and led to her having a panic attack while she was out with her children.
She had needed medication from her doctor to cope.
Bell had participated in a pattern of behaviour that caused the woman to fear for her safety and the safety of her children, Mr Webber said.
Therefore the verdict in this "unfortunate case'' had to be guilty.
But in summing up Bell, representing himself with help from a court-appointed lawyer, said he had taken necessary action.
"I stand on the side of right,'' he said.
He hoped that if he was ever wrongly convicted of a crime then someone would stand up for him as he was doing for Watson.
It was not his intention to cause the woman any harm.
Earlier today Bell took the stand in his defence.
He said he first became aware of the woman when she drove up and down a Blenheim street 10-12 times over three or four weeks in 2009. When he eventually approached her and asked her why, she said she and her husband were building a house and were trying to decide what colour roof to put on it.
Bell decided she was Olivia Hope, that she was suffering from Stockholm Syndrome, and that he had to put together an "evidence package'' to prove this. Stockholm Syndrome is a condition in which hostages begin to side with their kidnappers.
His first step was to travel to Auckland to search the number plate of her car, which he used to find out her address.
He then hired a rental car to undertake "surveillance'' of her, which culminated in him taking a photo of her and her five-year-old daughter as she came out of a Blenheim hairdresser.
The woman asked if he was taking her photo and he said "yes'' and took another, he told the court.
He said to her: "You're Olivia Hope. Thank you very much''.
- APNZ