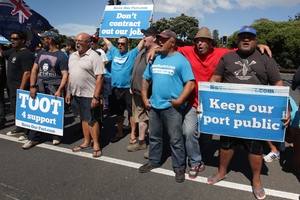 Frustrated Auckland port workers marched to the waterfront through lunch-time traffic yesterday after voting "unanimously" to end a four-week strike, only to be denied entry.
Chanting "Whose port? Our port" and "Where's the mayor? Not here", the 100-odd workers had a police escort back to their picket outside Fergusson container terminal.
They had accepted a Maritime Union recommendation to end the strike after the council-owned port company undertook to the Employment Court on Wednesday to suspend plans to sack them and almost 200 other workers, and return to collective bargaining.
But even before casting their votes, they received word that the company had issued 14 days' notice of a lockout against them.
Last night, their leaders were accusing the company of instigating an unlawful lockout, by not waiting out the notice period required for industrial action in essential industries.
The company refused to let them unload a ship on yesterday's afternoon shift, leaving it to 57 non-union workers, while proposing to meet with the Maritime Union this morning.
"This has become a semblance of the 1951 lockout," said veteran wharf foreman Danny Belsham outside the container terminal before he and his workmates were joined by members of other unions and a contingent of Auckland University students.
"We were fairly confident we'd be back at work late this afternoon or early tomorrow so this has come as a devastating blow - this port and its executive council are absolutely out of control and it's definitely time for the mayor to step up."
Asked about the legality of keeping the workers at bay, port chairman Richard Pearson said last night there were "many issues which mean an immediate return to work is not realistic; we're discussing this at a meeting tomorrow morning with the union".
Union president Garry Parsloe said he was circumspect about meeting the company during what he considered an illegal lockout, but would probably do so "to see why they're doing such silly things".
"Our belief is we are illegally locked out at the moment and we've got our lawyers working as fast as they can on it," he said.
Mr Belsham said the workers voted unanimously to end their strike despite being served with notice of an "indefinite" lockout from April 6, because that was in the spirit of a minute from the Employment Court setting out undertakings from the company.
Those were to suspend plans to sack 292 workers and resume mediation for a collective employment agreement.
"We've got to be seen to want to solve this issue otherwise we'll be painted, as always, as thugs," he said.
Council of Trade Unions president Helen Kelly said she believed Mr Pearson had already breached the company's undertakings by telling Radio New Zealand that workers should still apply for contracted out jobs, "so they are absolutely in contempt of court".
Mr Pearson said the port, which was operating at about 30 per cent of its normal level with non-union labour, believed an existing right to contract out work must remain in any new collective deal.
It issued the lockout notice to protect its commercial interests "and make clear some of the matters the company is looking for in a collective agreement."