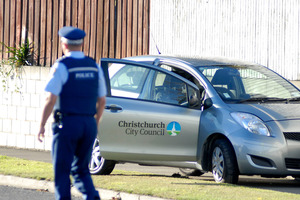 A city council worker hospitalised after being repeatedly stabbed in a horror attack in Christchurch last week has today spoken out for the first time, and remains "completely committed'' to his home city.
The 55-year-old man, who has name suppression, is set to be discharged from hospital after he was allegedly attacked by a 27-year-old Somalian man wielding two knives in rush hour traffic last Thursday.
He released a public statement today via his local authority employers to "just to let you know that I am OK'' and thank everyone who helped him.
"This event has brought out the worst in one person, but has brought out the absolute best in everyone else in Christchurch,'' he says.
He says he was ready to leave the city after the earthquakes, but after last week's incident, he has vowed to stay put.
"I feel so lucky to live in a place like Christchurch where, after such horrendous events happening both generally and personally to me, I have amazing people around me - people who have literally saved my life on the roadside and in intensive care at the hospital. People who have fixed my damaged home following the earthquakes, and so many other people that have come out of the woodwork to help me and others affected by this incident in so many ways.
"I have lived in Christchurch for 55 years and certainly hope to for another 55.''
He said he was "thrilled'' to receive a visit in hospital from Christchurch Mayor Bob Parker and was "blown away'' by the care and support over the last week.
"Many fellow residents have said that incidents of this nature just don't happen in Christchurch and all I can say is that isn't it good that this is the exception, rather than an everyday event.''
The alleged offender, shot by police after a stand-off on Hoon Hay Rd around 8am last Thursday, has been charged with kidnapping the council worker and delivery truck driver Marteine Robin, attempting to murder the council worker and injuring Ms. Robin with intent to cause grievous bodily harm. He also faces charges of possessing an offensive weapon, a knife, without lawful excuse at Redwood School and in Hoon Hay Rd.
He was remanded in custody on Tuesday following a special court hearing at his Christchurch Hospital bedside where he is recovering from his gunshot wounds.

- APNZ