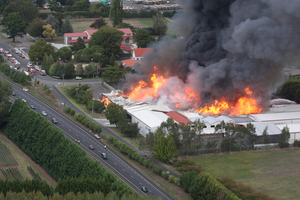 The mother of the firefighter killed in an explosion at a Waikato coolstore nearly four years ago says the company that installed the plant and its owners should be facing criminal charges.
Barbara Thorburn said police should have charged Mobile Refrigeration Specialists and Waikato Coldstorage - formerly Icepak Coolstores - with criminal negligence after a blaze in 2008 in Tamahere killed her son Derek Lovell and injured seven of his colleagues.
The 86-year-old, who made the comments as coroner Peter Ryan released his findings from an inquest held last year, said she had considered a civil action against both companies.
In 2009, they were found guilty of safety breaches and ordered to pay combined totals of more than $90,000 in fines and $270,000 in reparation.
Ms Thorburn said she still struggled with her son's death.
"He was a very lovely man, the best son in the world, and it still for me today is quite unbelievable.
"If I had been in stronger health and also wealthier, I would have taken a civil case against them - I made up my mind I would have."
In his findings, the coroner revealed a catalogue of oversights and errors in relation to the construction of the coolstore and its maintenance.
This was possibly exacerbated by a "complex and disjointed" regulatory framework covering the refrigeration industry at the time, he said.
A Department of Labour report revealed the coolstore's refrigeration installation did not meet required safety and legal standards and there had been a history of leakage of refrigerant because of the plant's design.
It also found the engineer who installed it did so with "little regard for relevant standards and approved codes" - although there was a clear standard to provide guidance.
The Labour Department report revealed that the plant was non-compliant with a regulatory framework and staff at the coolstore had little or no information on the hydrocarbon-based refrigerant being used.
There were no signs to warn Mr Lovell and his colleagues of the refrigerant's presence when they arrived at the plant on April 5, 2008.
Mr Ryan said there appeared to be "a need for regulatory reform" in the refrigeration industry to cope with the increase in risk.
Tamahere community spokeswoman Phillipa Stevenson, who represented Ms Thorburn at the inquest, welcomed Mr Ryan's recommendations for licensing and inspection of the industry.
But like Ms Thorburn, she did not understood why the explosion did not result in a manslaughter or criminal negligence charge.