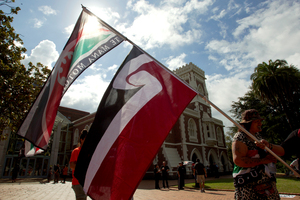 A Tuhoe leader says a commission of inquiry is needed on police tactics during Operation 8, even as the tribe delays pursuing legal remedies for alleged civil rights breaches.
The tribe gathered affidavits from Ruatoki residents immediately after the 2007 raids when armed, balaclava-wearing police sealed off the settlement at checkpoints.
Those affidavits describe experiences where police detained people for hours without food or water but without formally arresting them, subjected women to intimate body searches, herded people into sheds while property searches were under way, and photographed residents at the roadblock at the valley entrance.
Iwi leader Tamati Kruger said Tuhoe could take a civil suit against the police through the courts or negotiate directly with the Crown for redress. "Full and frank" discussions would include how to rebuild trust between the police and the tribe, and compensation for innocent people who had been made to feel like criminals, he said.
That could not happen until there was certainty over whether the Crown would pursue a retrial for Tame Iti, Te Rangikaiwhiria Kemara, Emily Bailey and Urs Signer on the lead charge of belonging to an organised criminal group.
A jury could not reach a verdict on the charge on Tuesday despite convicting on various firearms charges.
However, Mr Kruger's preference was to wait until after Tuhoe had finished negotiating the tribe's historic Treaty of Waitangi claims, which ask for mana motuhake, self-governance, and the return of Te Urewera National Park.
He urged tribal members to be patient about the raids issue, which would probably be set aside for a year.
"I think at this stage what I want to say to Tuhoe is: let's be calm, patient, and reasonable, and wait. Let's take a deep breath and attend to the more urgent claims of our settlement. Let's not throw this away - we'll put it to the side until we have cooler heads."
Mr Kruger said the effect of Operation 8 had been to brand Tuhoe people as terrorists. A commission of inquiry would ameliorate that suspicion, something he suspected a good number of New Zealanders harboured.
"Some people are saying 'they weren't found guilty but they looked damn guilty."'
An inquiry is a suggestion that Police Minister Anne Tolley is not keen on.
"While it isn't appropriate for me to talk about something that is before the courts, I can say I don't believe there should be an inquiry," she said yesterday.
"I can't get involved in operational issues - but I fully support the police, who work extremely hard to protect New Zealanders and keep communities safe."
Mr Kruger's call for a commission follows a call by Green MP David Clendon for an independent inquiry. Mr Clendon said his party had not worked out the details, but the select committee process could be used.
He said the loss of trust in the police by Ruatoki residents should be a major concern to the police.
"It's really about the community loss of trust in the police, people were terrorised. These sorts of things are not part of the New Zealand we know and I think there needs to be some accountability."