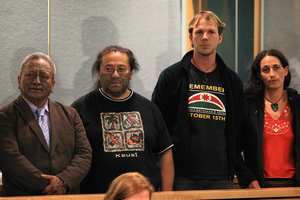 The bill for the Urewera raids and consequent court action has cost the Government millions, making it the most expensive trial in New Zealand history, legal experts say.
Costs will include the police investigation, the Crown's counsel Meredith Connell and legal aid for the defendants as well as keeping them in custody following the initial raids. The case has also been taken through District Court, High Court, Court of Appeal and the Supreme Court - raising the cost of the trial.
New Zealand Law Society president Jonathan Temm estimated the cost would be about $2.5 million.
"It will most certainly be the most expensive trial in our criminal history - certainly."
Mr Temm said the bill was likely to be more expensive than David Bain's retrial in 2009, which cost more than $2 million in legal aid to fund his defence.
Last August, the Weekend Herald revealed the Urewera raids and court appearances of the accused - who numbered 18 at the time before some charges were dropped in September - had cost the Government at least $750,000. Police refused to give a detailed breakdown of costs, but have provided an "aggregate figure" of $500,462. Figures released by the Crown Law Office showed $244,175 had been paid for two counsel to work on the case up until June 24.
The Legal Services Agency refused to disclose its costings while the case was before the courts.
Human rights lawyer Michael Bott, who represented one of the accused, said that since last June the costs would only have increased - probably dramatically - because of the large number of court appearances as well as the trial of the four at the High Court.
The defendants had been in custody for that time, said Mr Bott, adding that the cost of keeping just one person in prison for a year was about $180,000. What needed to be revealed, Mr Bott said, was the cost of the police investigation because it would be disingenuous not to include it in the total figure of the Crown prosecution.
"The defence costs cover the expert witnesses called by the defence, the administration to collate the files and to go visit the scene and so on. But the costs for Meredith Connell to prosecute the case, they've got to accurately reflect the true costs of the prosecution which includes the police investigation that continued right up until the start of the trial."
Mr Bott said the Crown had thrown everything it had at the case to try to ensure a guilty verdict.
"There's so much publicity and interest and controversy around this entire trial, they're [the Crown] not going to want to walk away with anything other 'guilty' and as I've said before, you don't throw a $10,000 saddle on a $100 horse."