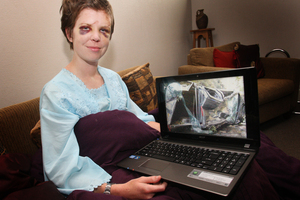 A Department of Conservation worker has described the moment she regained consciousness after her four-wheel-drive slid off the road, plummeting 100m down a bush-clad ravine.
Stella McQueen said she and passenger Natasha Petrove, both freshwater fish rangers, were extremely lucky to survive.
They skidded off a gravel road in the Ruatiti Valley, near Raetihi, after Ms McQueen slowed and pulled over for an oncoming car to pass.
"We just kind of fell over and started falling down the cliff. It was like we were in slow motion. I remember thinking, 'Oh look, we're on our side now' - then suddenly we went down faster and faster.
"I came to in the water ... the car was on its side ... I felt Natasha slide a rock under my head to keep it out of the water, which was so lovely of her."
The two women were flown to Wanganui Hospital by the Palmerston North rescue helicopter. Ms McQueen, 32, had concussion, bruising and cuts, and Miss Petrove, 26, had cuts and bruises.
Now at home in Wanganui, Ms McQueen said she was feeling "bashed up" and taking painkillers but she knew how fortunate they were.
She was able to muster a giggle as she recalled her call to her mother from the hospital on Friday.
"I started by saying what a fantastic time we'd had, that we'd seen kiwi and blue ducks and we'd had such a good time, but anyway when we were driving home we went over a bank and now I'm in Wanganui Hospital .. ."
Jo McQueen faced the prospect of having two daughters in hospital, having dropped off her second daughter for day surgery that morning.
"I rushed back to the hospital and literally didn't know which way to go. One daughter was in recovery and the other was in A&E .. it was a very strange feeling, I can tell you," she said.
Waimarino Constable Bruce Francis said the driver of the oncoming vehicle and a DoC officer from Pipiriki, who arrived moments later, helped the two women.
Mr Francis said Ms McQueen was partially trapped, with her upper body in the water.
"The swift actions of the two rescuers no doubt prevented the injuries becoming more serious."
- APN