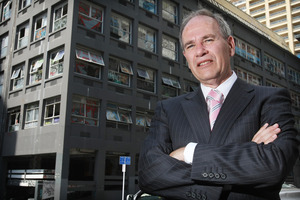 Airport rail has been restored to a second tier of Auckland Plan projects, after an outcry over it being bumped down Mayor Len Brown's list of transport preferences.
The final draft of the 30-year plan, which the Auckland Council's governing body will consider next week, proposes that a $1.18 billion railway to the airport be completed by 2030.
That is an improvement from the previous draft, which prescribed only a start to construction of "rapid transport" to the airport in the second decade of the Super City's development, and then completion of a rail loop by 2040 through Onehunga and Manukau.
But it still amounts to a backdown by Mr Brown, who in his 2010 election campaign promised airport trains within about 10 years as his second favourite transport project after a central city rail tunnel now expected to cost about $2.86 billion.
Instead, the mayor infuriated public transport campaigners, including council transport committee chairman Mike Lee, by pushing a mega-roading project into second place.
Mr Brown chaired a meeting of his council's future vision committee when it decided last month to add a $1.1 billion roading corridor through Onehunga to the $1.5 billion Ameti package of transport improvements begun in southeast Auckland.
Although Ameti includes busways and cycling paths, as well as new roads and bridges, the Onehunga project is mainly aimed at reducing congestion for freight traffic between State Highways 1 and 20.
It is strongly supported by the Auckland Business Forum, leading to a claim by Mr Lee that the mayor's popular mandate from voters for airport rail was undermined by post-election lobbying from that quarter.
Mr Lee has welcomed the final draft of the plan for pushing airport rail partly back up the pecking order, but remains critical of the decision to give such high priority to a roading project on which he says cost-benefit investigations have yet to be conducted.
"A need may be proven for it, but studies have yet to be done."
Mr Lee said that the Transport Agency and its predecessors had resisted yearsof lobbying by the former Auckland City Council for an Onehunga corridor to beadded to its state highway network, qualifying it for full government funding.
Agency highways manager Tommy Parker said that although the corridor was not yet on any funding programme, a joint study his organisation conducted with the former Auckland and Manukau councils and regional transport officials concluded it should be a state highway.
Mr Brown said he remained committed to an airport rail link, but that could not happen before a 3.5km tunnel was built to allow trains to run in a loop around central Auckland. The existing network would be unable to cope without it. Once a route to the airport was identified, steps could be taken to protect it.
The draft plan lists route protection for a dedicated airport rail corridor within the document's first decade, by 2020.
But Mr Lee said much of the route, as far as Walmsley Rd in Favona, was already protected and piers for the duplicate motorway bridge across Manukau Harbour from Onehunga had been built to support a railway under the road.
Triplicate tracks for rail freight along the main trunk line via Glen Innes, between the Port of Auckland and Papakura, have also been proposed for the plan's second decade - for completion by 2030.
KiwiRail has begun earthworks for a third set of tracks between Otahuhu and Wiri, in association with rail electrification work, but has yet to produce a firm proposal or costings for the full route.
Auckland Council member Dick Quax has raised concern about the impact of a freight line on residential development, but Mr Lee said it would be in an existing rail corridor and he did not expect goods trains to sound much different from passenger services.
Reminded that passenger trains would be electric, and therefore quieter by 2016, Mr Lee hoped KiwiRail would ultimately extend its electrified freight network to Auckland.