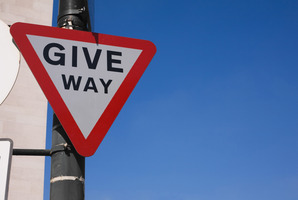 With the change in the giveway rule, who gives way when two lanes merge into one, such as the end of a passing lane? The road code appears to be silent on this. Logically the car in front should have the right of way, but if both cars are level when the lanes merge I was taught the car on the inside lane gives way to the car on its right, just as at intersections. If that is correct, will the rule change for intersections mean the car on the inside has the right of way when lanes merge? James Smith, Manawatu.
The road code is indeed silent on this, as is the NZTA website. This being the case, I would think that nothing changes here, and that common sense and courtesy prevail.
Will the rules change at roundabouts? Olive Goldsmith.
No. You will still be required to give way to vehicles approaching from your right.
Which intersections will be affected? How many of them will have changes to the signage? I read somewhere that there were over 500 that need sign changes - this seems to be an awful lot of work to be done before Sunday. Bob Findlay.
I too read that 500 was the figure, but Auckland Transport has listed just 15 (they say there are 16) that need signage and road marking changes in its area. AT says that the balance of the number will have a lesser impact and will be closely monitored. Changes will be made later if deemed necessary.
Here are the 15 in the Auckland Council area:
Melrose Rd and Hayr Rd, Hillsborough.
Olsen Ave and Melrose Rd, Hillsborough.
Ladies Mile and Morrin Rd, St Johns.
Hill Rd and Grande Vue Rd, Manurewa.
Stadium Drive and East St, Pukekohe.
Aviemore Drive and Highland Park Drive, Howick.
Portage Rd and Claude Avenue, Papatoetoe.
Weymouth Rd and Southmall carpark entrance, Manurewa.
Alfriston Rd and Claude Rd intersection, Manurewa.
Ellice Rd and Wairau Rd, Wairau Valley.
Beach Rd and Valley Road, Waiake.
Onewa Rd and Kauri Glen Rd, Birkenhead.
Rua Rd and West Coast Rd, Glen Eden.
Godley Rd and Titirangi Rd, Titirangi.
Tamatea Rd and Airport Rd, Whenuapai.
Who gives way when at an intersection when vehicle A turning right has a give way and vehicle B turning left has a compulsory stop? Walter Jenks.
There are no changes. The vehicle at the stop sign must still give way to the vehicle at the give way sign.