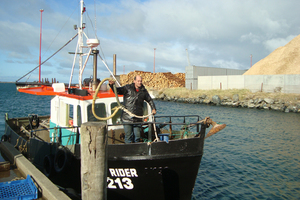 Four people remain missing from fishing vessel Easy Rider despite further searches today.
The bodies of skipper Rewai Karetai, 47, of Bluff; Paul Jason Fowler-Karetai, 40; Odin Karetai, 7; and David George Fowler, 50, all of Invercargill, are yet to be found following the tragedy, which happened overnight last Wednesday.
The four were among nine people aboard the Easy Rider, which left Bluff about 6pm on Wednesday bound for the mutton bird islands.
But the 12m boat was hit by a rogue wave just after midnight and sunk, leaving Invercargill man Dallas Reedy, 44, as the only survivor.
Searchers have recovered the bodies of Invercargill men Boe Taikawa Gillies, 28, John Henry Karetai, 58, Peter Glen Pekamu-Bloxham, 53, and Shane Ronald Topi, 29.
Southland area tactical response manager Inspector Olaf Jensen said about 25 Land Search and Rescue (SAR) volunteers today combed the southern coastline from Fortrose to Chaslands Mistake looking for the bodies of the missing.
A further 12-strong SAR team searched the coastline beaches from Tiwai Beach through to Waituna Lagoon on foot and by 4WD motorbike, while 15 undertook a coastline search from Omaui to Ocean Beach on foot.
The area from Bluff's Stirling Point to Ocean Beach was searched again by small boat because the rocky topography meant the area was too difficult in places to traverse on foot.
However, all of the searches had proved fruitless.
The operation management team was assessing the latest tidal drifts and, depending on what they found, a further search could be made of the Ruapuke Island coastline by boat and on land tomorrow. A decision would be made in the morning.
"Police had hoped for a better outcome at this stage, and our thoughts and sympathies remain with all families involved,'' Mr Jensen said.
- APNZ