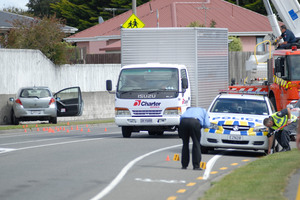 A 27-year-old Somali man has been charged with attempted murder, assault and kidnapping after an alleged armed rampage across Christchurch which ended when he was shot by police.
In a special court sitting at his bedside in Christchurch Hospital today, where the man is under police guard as he recovers from the wounds he suffered, Judge Paul Kellar suppressed the man's name, and a request was made for him to undergo a psychiatric assessment.
The unemployed Christchurch man is accused of kidnapping and stabbing a delivery truck driver before repeatedly stabbing a city council worker, last week.
He is charged with attempting to murder the city council worker, whose name is also suppressed, injuring delivery truck driver Marteine Robin with intent to cause grievous bodily harm, unlawfully detaining the pair and unlawful possession of a knife in a public place.
The man's lawyer, Alister Davis, said his client was unwell.
The man will be put into care at a psychiatric hospital once he is released from Christchurch Hospital.
The accused man lay in his hospital bed with his eyes closed throughout today's court sitting, but nodded when asked if he could hear what was happening. His left arm was heavily bandaged, and hooked up to tubes. Two police officers stood nearby.
The shooting drama started around 7am last Thursday when a man was disturbed in the grounds of Christchurch's Redwood School by the caretaker.
After allegedly threatening the caretaker and a teacher the man ran off and came across Ms Robin, who was doing a routine early morning delivery of pies to the school.
The knife-wielding man opened the passenger door of her truck and got inside. He allegedly forced Ms Robin to drive at knifepoint, and stabbed her in the shoulder.
Ms Robin eventually escaped when the man was momentarily distracted at a traffic jam almost one hour, and 50km later.
Police said the man left the truck near the busy intersection of Hoon Hay and Halswell roads and then almost fatally stabbed the council worker who intervened.
The council worker is still recovering from his injuries.
Construction worker Jade Lynn, 22, was hailed a hero by keeping the knifeman at bay with a crowbar until police arrived.
The armed man was stopped only when pepper-sprayed, Tasered and then shot twice by a policewoman. Armed with a Glock pistol, she fired two shots, one hitting the man's shoulder and the other his wrist.
The case will be called again in court on March 29