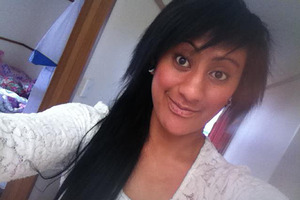 Help is flooding in for a grieving family trying to bring home the body of a young Tauranga woman who died suddenly in Western Australia.
Amanda Tauai died on Saturday in a Perth hospital from what is believed to be meningitis after being airlifted from Paraburdoo, a mining town.
The 21-year-old's family rushed from Tauranga to be at her bedside when they heard she was sick but she died before they arrived.
Friends and family have set up a trust in an effort to raise the $10,000 needed to bring Ms Tauai's body home to Tauranga.
A Facebook fundraising page set up to get donations for the Tauai family has already received many offers of support.
Children from Paraburdoo Youth Centre have organised a sausage sizzle to raise funds and Tom Price Senior High School in Perth is giving money raised at their mufti day to the cause.
Others taken to the page to confirm they have or will be making donations.
Friends have also posted tributes and memories on a memorial page for Tauai.
They remember her as a talented, beautiful woman with a bright personality.
Jodie McDonald said: "Such a gorgeous girl taken from us all way too soon. It was such a pleasure to know such a funny, caring & wonderful person. My love and thoughts go out to all Amanda's family and friends back in NZ."
Holly Poingdestre said her mind was constantly on the day Ms Tauai was rushed to hospital in Perth.
"It happened all to fast. Mandah you will be missed, can't get my head around the fact that you're gone. So unfair. Rest easy bro, you're in a better place now. Will never forget you, love you always!"
Arna Maumau said: "Missing you like crazy girl...the first time I met you was a blessing. Its hard to believe your gone but you will never be forgotten. I will cherish each and everyone of the memories we once shared."
Claire Rasmussen, a friend in Paraburdoo, and two others set up the trust fund for Ms Tauai.
"She would do the same for any one of us - she'd be out there doing a drive and doing the same thing, she was amazing," Miss Rasmussen said.
"We're doing a barbecue at the local football grounds so hopefully that will bring some money in.
"Local artists are also selling off some pictures with all of the proceeds going to her family."
A trust fund has been set up in Tauranga called "Amanda's Angels" to pay for funeral costs.
Miss Tauai had been working in Paraburdoo, in the Pilbara region more than 1500km north of Perth. Most of the town's residents are employed by Pilbara Iron's mining operation.
Miss Rasmussen said her friend would be remembered as a kind, sweet and friendly person.
"She just touched so many people ... it's a very small community here and she was very sociable. She was just so nice, never selfish, always wanted to help all the time ..."
A Tauranga Girls' College teacher who knew Miss Tauai well yesterday paid tribute to the young woman who she said left the school in 2008.
"Amanda was a really lovely girl. I remember her being into her volleyball. She was a really polite, and lovely student."
*To make a donation via the National Australia Bank:
Acc name: Amanda's Angels
BSB: 084571
ACC: 131817782