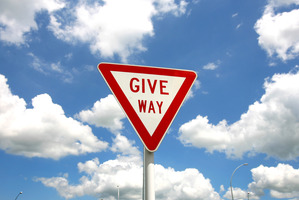 Transport engineers are taking a wait-and-see approach at many intersections, to assess how they cope with Sunday's rule changes for turning traffic.
Auckland Transport is the only roading authority in the upper North Island found yesterday to be making intersection modifications ahead of the changes, and then at only 16 sites. But along with counterparts elsewhere, it will monitor hundreds of other key locations in case right-turning vehicles face unacceptable delays in coming weeks and months, in defiance of traffic-modelling surveys already conducted.
A favourite option if that happens will be to install give-way or stop signs for left-turning traffic, which will otherwise gain priority over vehicles turning right.
Another being adopted in limited fashion by Auckland Transport is to extend no-parking zones with yellow dotted lines to ensure through traffic has enough room to pass to the inside of vehicles waiting to turn right.
Tauranga City has a list of 65 priority intersections where it intends spending about $20,000 on stop or give-way signs, but only in the months following the rule changes at 5am on Sunday.
These will be mainly aimed at the change which will give left-turning traffic priority over right-turning vehicles at uncontrolled intersections, bringing New Zealand in line with the rest of the world, or where controls are equal for vehicles coming from opposite directions.
A second rule change will require vehicles approaching the end of a road terminating at a T-intersection to give way to traffic turning towards them, into the road.
Councils in Hamilton, Whangarei and Rotorua say they have surveyed key intersections, and will monitor them after the rules are changed, but are satisfied none is of immediate concern.
Hamilton City will have 19 intersections under continuing surveillance and Rotorua has two potential troublespots, although its district council believes there will be enough space available for longer queues of right-turning traffic.
Auckland Transport initially expected to spent up to $500,000 on changes to about 500 intersections, out of 15,000 which it surveyed throughout the region. But its engineers have since narrowed the list to 16 of their busiest sites, at which they have been installing give-way signs at left-hand turning bays to ensure opposing motorists do not have to wait too long to turn right.
Traffic operations manager Randhir Karma said last night that his staff had studied vehicle volumes at all key Auckland intersections, and were confident their network was robust enough to function without many alterations. Give-way signs are being installed at just six intersections where the volume of right-turning vehicles was considered such that they needed to retain priority over left-turning traffic.
These are the intersections of Wairau Rd and Ellice Rd, Glenfield; West Coast Rd and Rua Rd, Glen Eden; Titirangi Rd and Godley Rd, Titirangi; Tamatea Rd and Airport Rd, Whenuapai; Hill Rd and Grande Vue Rd, Manurewa; and Stadium Drive and East St, Pukekohe.
Ten other intersections are having no-parking restrictions extended back from them to allow more room for passing and waiting traffic.
Mr Karma said Auckland Transport supported the rule changes, which it expected would make turning decisions easier once drivers became used to them.
The Transport Agency, which is spending $1.2 million on a "short and sharp" publicity campaign, points to a 7.1 per cent fall in intersection crashes after a similar exercise in Victoria, Australia, in 1977.
But Dog and Lemon Guide's Clive Matthew-Wilson, while supporting the rule changes, fears the campaign is too short to change "a lifetime of driving habits".
Issues for colour blind
Government transport officials are defending their use of green and red cars to depict Sunday's changes to give-way rules at intersections, despite challenges for colour-blind drivers.
A colour-blind Herald reader has raised concern about the Transport Agency's $1.2 million publicity campaign, saying the cars shown in advertising graphics should have been yellow and blue, for a better contrast.
But the Foundation of the Blind, while acknowledging that red and green are often the most difficult colours to differentiate, welcomes the agency's inclusion of more "accessible" black and white vehicle graphics on its website.
The agency also yesterday accepted there could be difficulties for colour-deficient drivers, but said its images included different styles of arrows to show which of the two cars in its advertising must give way after turning rules are changed at 5am on Sunday.
A spokesman said it tested its advertising with colour-blind people to ensure they could understand questions included on its website.
The Optometrists' Association says 8 per cent of males and 0.4 per cent of females are born with "colour deficiency", of which there are different types.
Some may confuse blue-green shades with grey, and others may not be able to tell the difference between yellow, brown and grey.
ON THE WEB