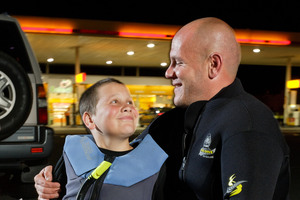 Two children who survived a shipwreck adventure over the weekend with their dads say they can't wait to get back to school to tell their mates.
The four - Seth Taylor, his son Corban Radford, 10, and another father and son who didn't want to be named - set off on a dinghy for a weekend of fishing and diving when their vessel capsized after being hit by a wave off the coast of Raglan on Friday.
Taylor said they had dropped a few crayfish pots and gathered several paua when they decided to go closer to shore to dive. But the boat was hit by two waves in quick succession. It filled with water and sank off Manu Bay about 8pm.
"We were probably a bit too far in so we didn't see a wave coming," he said. "It just happened too fast. It was a matter of 10 seconds and we were out of the boat, swimming to shore.
All four on board were wearing lifejackets.
Taylor said the kids started to scream "so we tried to tell them not panic and that everything was going to be all right because it's only a little swim to the shore - it was only 20m or so".
They found themselves in a small cove enclosed by 50m cliffs with no way out.
"We tried to walk out out just before dark - we thought we might luck on to a bit of a track - but we had to camp up in the bush."
They gathered logs, sticks, ferns, leaves and built a bivouac on top of soft dry grass and the men found a waterfall nearby for fresh water. They ate the paua they had caught earlier.
"There was nothing but raw paua on the menu that night but the kids love paua anyway so that was all good."
They told camp stories before hunkering down for the night, wet, cold and using their damp lifejackets as pillows.
"It was horrible, but one thing I must say is kids are resilient at times. We just buckled down and waited for first light."
When the sun came up, "it was probably the best sunrise I've seen in my whole life", Taylor said.
The group waited on the shoreline and about 10am they spotted a boat and waved it down. The other father swam through the surf to meet it and contacted the Coastguard. Within half an hour, they were rescued.
"They took us to get checked out by the ambulance first but then then we proceeded straight to the nearest bakery. Nothing like a mince and cheese pie."
The children were still buzzing about their experience and couldn't wait until tomorrow to tell their friends at school.
- APNZ