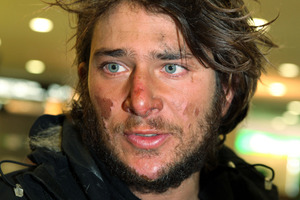 Hungry and stranded on a rogue adventurer's broken yacht, Antarctic voyager Busby Noble needs to come home now, his partner says.
T.P. Teiho said she was furious with Norwegian explorer Jarle Andhoy for putting her partner in danger. "I hold him responsible for Busby's life, health and well-being."
The yacht Nilaya, which Andhoy referred to in messages as Berserk, was drifting between the frozen continent and South America after its boom snapped this week.
The five men on board were running out of food and diesel supplies were depleted, Teiho said.
She had a blunt message for the Norwegian. "You've kidnapped him, you clown. Get him off your ugly boat and send him home."
Norwegian coverage of the Nilaya saga shows footage of Noble - a robust, tattooed Maori activist - which caused a sensation in publicity-hungry Andhoy's homeland.
Andhoy could be arrested if he returned to New Zealand, after failing to declare a historic deportation order and not seeking permission from authorities to land in the Ross Dependency.
Teiho said her partner was an impromptu passenger. "Jarle knows he's going to go to jail. Why drag my husband down with him?"
Customs spokeswoman Sara Stavropolous said, "If Mr Andhoy and Mr Noble come back to New Zealand, at some point we would like to talk to them."
But she said there was nothing Customs could do if the pair were thousands of miles away.
Nilaya's previous owner, Aucklander Doug Easton, defended Andhoy. "The guy's not doing it lightly. I find it abhorrent that people are slamming him. He maybe hasn't complied with bureaucracy - but that's not a hanging offence."
Ministry of Foreign Affairs spokesman Adam Crichton said there was no request for assistance from Noble while embassies in Chile and Argentina were alerted to Nilaya's possible arrival.