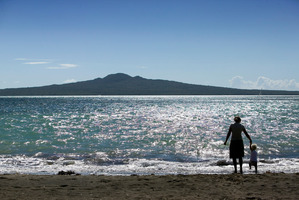 Cashed-up foreigners and earthquake evacuees are nudging sales of coastal homes to four-year highs.
Auckland's relaxed coastal lifestyle is luring young expats back from Britain and natives of other Northern Hemisphere countries, who are buying up big homes in beachside suburbs to escape crowded cities and grey skies.
Precision Real Estate principal agent Tom Kane said British citizens and returning expats also felt safer in New Zealand. Up to a quarter of his buyers this year were from abroad.
Central, landlocked suburbs like Sandringham and Grey Lynn were responsible for much of Auckland's real estate growth this summer but coastal suburbs were also going strong.
Bayleys St Heliers agent Larry Sewell said sales in the Eastern Bays coastal strip between Glendowie and Orakei were approaching levels not seen since the credit crunch sent big-time buyers ducking for cover four years ago.
On the North Shore, Harcourts Mairangi Bay agent Chris Reade said moneyed Cantabrians were arriving in high numbers to escape the post-quake environment.
Reade said coastal property sales were brisk but prices hadn't blown out just yet. "If there's a gross overpricing at the moment, some people might be wearing it in a few years time when they come to sell - but I don't think that is the case."
Property writer Stephen Hart said New Zealand was attracting wealthy foreigners for whom the idea of a clifftop or beachside home was irresistible. "We tend to attract wealthy Brits and Europeans who've had enough and are coming over here. Our findings are that the more we're appealing to European immigrants, the more likely there'll be demand for [coastal] properties."
Auckland prices may be the highest in New Zealand, but they were still small change compared with those in London. About $1.25 million buys a five-bedroom, three-bathroom home in Mairangi Bay. But the same price is being asked for a two-bedroom flat in London's Battersea Park.
With those prices, Hart said British residents who sold their homes would be in a prime position to buy expensive coastal properties here.
"We're still finding a lot of Brits saying 'I've completely had it with the UK' and cashing up and coming over here."