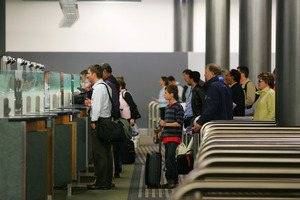 International airlines which do not ensure passengers have the right documents to enter New Zealand face fines under new border rules.
Some 788 passengers have been refused entry at New Zealand airports in the past 12 months. Reasons for being turned away included using false documentation, not having a visa or having criminal convictions.
Immigration New Zealand says it costs about $600, which includes immigration and police supervision, accommodation and the provision of food, to turn passengers around at the border. It can take 12 to 72 hours to process each entry refusal.
Under the new requirement, airlines will be required to check that passengers hold valid documentation, such as an acceptable passport and visa, and ensure they meet New Zealand's entry conditions before they are allowed to board the plane.
Immigration said those entering the country without meeting immigration requirements could also pose "significant cost" with non-bona fide asylum claims, working illegally, people smuggling and costs on the taxpayer-funded health system.
At the moment carriers were responsible only for returning anyone who had been refused entry, but not the other costs.
"The introduction of this system will enable immediate, efficient and proportionate action to be taken when carriers breach their obligations," said Peter Elms, the immigration department's acting manager of intelligence, risk and integrity.
"A carrier that commits an infringement offence may be issued an infringement notice, and then is liable to pay an infringement fee."
Mr Elm said the aim of the obligations was to mitigate risk to New Zealand's border security and the immigration system's integrity.
Infringement fees have not yet been set, but the department said they would be "at a level to reflect the seriousness of each offence and the level of deterrence sought".
Immigration Minister Nathan Guy said the timing and details of the regime were still being considered, but it would be around June.
"It's important we protect our borders and encourage compliance with the law," he said. His department had been consulting closely with airlines about the new regime.
Australia, Canada, the United Kingdom and the United States also have similar infringement regimes for airlines.
Airlines contacted by the Weekend Herald said they would work towards meeting the new requirements, but did not think the new regime would change how they screened passengers.
Air New Zealand spokeswoman Tracy Smeaton said: "Air New Zealand already has stringent processes in place to ensure passengers travelling on board our flights to New Zealand meet the relevant immigration requirements."
A Jetstar spokesman said: "All international airlines, including Jetstar, have a responsibility to ensure any laws regarding entry to New Zealand are complied with."
According to a briefing paper to the minister, a paper seeking Cabinet agreement will be put forward by May. It said airlines were expecting the regime to begin before July.
"Any delay to implementation prevents New Zealand having a proportionate and immediate tool to enforce compliance," the paper said, "but also introduces a reputational risk with airlines."