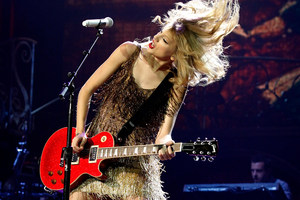 Pop singer Taylor Swift ended months of expectation - and hours of queuing - for thousands of her diehard fans when she played Auckland's Vector Arena last night.
The first of three sold-out shows had hundreds of her fans lining up outside the stadium in hope of securing a good spot to watch the 22-year-old singer.
A sea of girls and young women, most dressed in official or homemade Swift T-shirts, sang their idol's hits as they waited to be let into the venue.
At the front of a line stretching 250m were Wellington friends Natasha Murden, Nandana Guda and Bavi Arulrajah, all 19, who had camped overnight to be among the first into the theatre.
"We want to be at the very front, and we really want to meet her. I don't know if it's going to happen, but we've got our fingers crossed," Ms Murden said.
Nearby, Stephanie Lee, 18, Megan Fung, 18, and Darlene Avia, 17, were slightly less dedicated, having lined up since only 6am.
The friends predicted a mosh pit and were determined to get to the front row - by any means necessary.
"We've got a game-plan with sprinting. Nobody is getting in my way, once we get our tickets scanned," Ms Lee said.
"[We] might use our teeth and stuff," Ms Fung said. "We're probably never going to see her ever again, it's a once in a lifetime thing, so you've got to make the most of it."
And while many of the men queuing for merchandise were clearly fathers, not fans, Swift's New Zealand fan-base isn't entirely female.
"One guy came by himself, he made a T-shirt and everything. And then he had to leave to uni, and he came back and we saved a spot for him [in the queue]. We were pretty impressed by that."
The only disappointment of the night for many was the news they were unable to take in their signs to the general admittance area. Portia McDonnell and Zoe Rey, both 11, spent a making cardboard signs with magazine pictures of Swift and glitter, but were forced to leave them at a makeshift shrine outside.
Swift was named the Billboard Top 40 Money Maker for 2012, earning a reported $43 million last year.
The New Zealand leg of her Speak Now tour continues tonight and ends with her third show at Vector Arena tomorrow night.
Swiftmania
Taylor Swift sent 12,000 Vector Arena fans into near-hysteria last night with her first New Zealand show. The 22-year-old American pop star had the audience screaming in delight from the lavish opening number Sparks Fly. Sumptuous red curtains opened to reveal perhaps the most elaborate staging the stadium has seen for a pop show - gilded balconies and staircases, wind machines, aerial artists descending from the ceiling shooting sparks, a 10-piece band and a cast of dancers. Then Swift rose through the runway in a haze of smoke. But even though she may have the dream stage show, she's still a pretty and lovable person who clearly loves what she does.