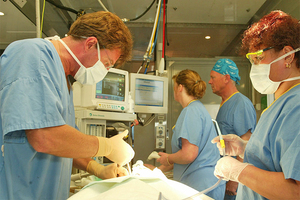 The number of people getting elective surgery rejection letters from accident compensation officials has shrunk since their tougher stance was revealed in 2009.
But while the "no" rate has been trimmed from 22 to 18 per cent, it remains well above the 11 per cent figure at the time the policy was changed in 2008 to save money.
The Accident Compensation Corporation maintains it has improved its decision-making on elective surgery, following an internal review last year which led to its admitting it had been too tough.
But the issue of "degeneration", caused by advancing age or an old injury, continues to sour many people's relationship with ACC, including many of the more than 150 who have complained to the Herald about rejected claims.
ACC can withhold funding for surgery if the need is at least 80 per cent due to degeneration. Orthopaedic Association president Bryan Thorn, a Tauranga surgeon, said the issue of degeneration remained "a large, contentious area" of who should be paying for treatment.
"We're trying to make the point that people who do happen to have degenerative change in whatever body part has been injured should not be unfairly penalised, because they already have that on board; and particularly shouldn't be penalised because they are a certain age.
"Degeneration goes with age in many areas. Everyone knows ... that sometimes it can be quite difficult to isolate the injury factors out of all that. That's the very sort of thing we're going to be discussing in the next hour," Mr Thorn said yesterday by telephone from a meeting with ACC officials.
Claimant advocate David Wadsworth, who maintains ACC has become more willing to reverse surgery funding rejections before review hearings if given convincing evidence, said it was important patients got the support of their doctor before challenging ACC decisions.
There was little point in a claimant lodging a review application unless their surgeon or GP thought ACC's decision was wrong, he said.