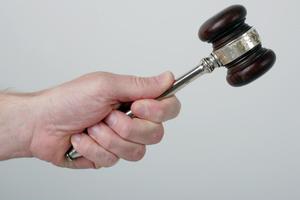 A Runanga man who crushed a woman against a fence with his car then tried to pin the blame on a group of "infatuated women" has been sentenced to jail.
Last August, a jury in Greymouth District Court took just 35 minutes to find Romi Blown, 26, guilty of intentionally causing grievous bodily harm to Mikayla Darling by deliberately crashing his car into her and pinning her to a fence in Cobden on September 21, 2010..
Ms Darling suffered leg injuries which left her with significant scarring and ongoing pain.
At the time Blown flatly denied being involved, reporting his car stolen and claiming that he had been whitebaiting in South Westland.
When told that many witnesses had put him at the scene, Blown said a group of infatuated young women had made false allegations against him because he had rebuffed their advances, then said the complainant had inflicted the injuries on herself with a knife.
Yesterday, lawyer Richard Bodle told the court Blown still denied "intentionally" harming the woman but accepted that he was responsible for her injuries and was deeply remorseful.
Blown had paid $5000 reparation for the woman's pain and suffering within two months of his conviction, and had effectively been under house arrest for 18 months. As a condition of his bail he was only allowed to leave home for work.
Mr Bodle sought a sentence of two years or less, which would allow the judge to convert it to home detention, but Judge Raoul Neave said he was unable to oblige.
Had Blown pleaded guilty at the outset, or even showed complete remorse after the jury's verdict, extra credits would have reduced the sentence accordingly.
"The system, to some degree, favours the hypocrite," the judge said.
"The man who swears black and blue through a trial that he didn't do it, then when convicted, says 'I admit it, I'm sorry', gets a better deal than the man who maintains his stance throughout."
He sentenced Blown to two years and three months in jail.