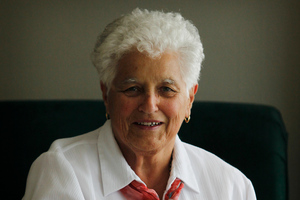 A visit from the Queen, a national disaster, and an elderly man streaking in front of a Dame are just a few of the tales Colleen Yorwarth can tell about her time as a nurse at Waikato Hospital.
Tomorrow Mrs Yorwarth will be one of 130 former nurses getting together at the Waikato Hospital Graduate Nurses Reunion Association biennial lunch.
Mrs Yorwarth, who turns 77 on Sunday, began her training at Waikato Hospital in March 1953, working in Ward 17, a 46-bed medical unit in what is now the Hockin Building.
Back then nursing was very different.
"Our drugs didn't come already made up. We had to be able to know how much sterile water to mix with the tablet or the powder to make sure we had the right doses."
Handwashing was imperative because gloves were not always available.
"We'd get into trouble if we didn't do it. We didn't have disposable dressings, it was all resterilised.
"We wore white uniforms on duty ... white stockings, white shoes and white caps. We wore blue uniforms for breakfast, lunch and dinner.
Visiting hours were limited, only two visitors a bed and children were not allowed.
Nurses worked six days a week, but they still had fun. They lived together, went to dances and usually left to raise a family once married.
Highlights of the early years included lining Pembroke St for a drive-by from the newly crowned Queen Elizabeth II, helping to change the nursing curriculum to include maternity training when she was a tutor, and being one of eight to form a guard of honour at the state funeral of Cabinet minister Dame Hilda Ross in 1959.
Mrs Yorwarth recalled an incident involving Dame Hilda, when the hospital board member decided to see why the doors in the Hockin wing were still shut as visiting hours began promptly at 2pm.
"She gave them a few minutes and then flung the doors open. The reason they weren't open is because a dear old gentleman had stripped himself clean and was running down the corridor. She got an eyeful and the doors were quickly closed."
Then there was the Tangiwai disaster on Christmas Eve, 1953, in which 151 people were killed when the train they were on plunged into the Whangaehu River after a lahar from Mt Ruapehu washed out the bridge.
Mrs Yorwarth was working the night shift when on Christmas Day many of her colleagues went to the scene of the disaster, west of Waiouru, to help with the clean up.
She left in 1961 to raise five children, but returned in 1973, working as a midwife at Huntly Hospital until maternity services were terminated there in 1995 and she retired.
Tomorrow's reunion would be "just as if we'd turned the clock back", Mrs Yorwarth said.
The Waikato Hospital Graduate Nurses Reunion Association was formed in the 1940s and has 300 members.
"It's a catch up and it's important," Mrs Yorwarth, a past president and life member, said.
"Our lives, as ex-Waikato Hospital nurses, are intertwined and have been ever since we met because of the way we worked and trained. We can go years without seeing one another and nothing changes."
Two association members from the 1940s, of of them in her 90s, will be at the Hamilton lunch.